Here's the deal with punditry, once you have "one of those names", it no longer matters whether or not you're ever right – you continue to get headlines and booked on shows simply because you're "a name".  Dick Bove is a great example of this, so is Barton Biggs.  You don't like it?  Too bad, that's how it is and that's how the world works.  The producers and editors know you're gonna click or watch when you see and hear that name.
Deal with it.
Moodys chief economist Mark Zandi is a smart guy and a well-regarded economist.  But he seems intent on finding the silver lining in today's jobs report. His reach for sunshine this morning came off as almost political.  The problem is that when he and other "names" like him do this, it sucks people into doing stupid things with their money.
His on the lighter side spiel after today's BLS report (seen here on CNBC) boils down to (paraphrasing) "Don't worry, we're only seeing non-hiring, the lay-offs by employers haven't even started yet."  Which of course is absolutely not true, Corporate America has already begun embarking on a new round of mass layoffs this summer – tens of thousands of workers from Merck to Cisco to Morgan Stanley are being shown the door right now as has been documented here: The Race to Headcount Zero
But it's okay to be wrong…as Zandi very often is.   The bigger question is why even bother coming out and saying "but here's the good news" on a day like today?  Karma, perhaps?  Or is he running for something?  Because I don't get it otherwise.
Anyway, here's the stock market versus Zandi's Bloomberg headlines year-to-date, his ability to tactically make the wrong call here is uncanny – and the self-contradiction is amazing.  Graphic below is courtesy of portfolio manager Andrew Yorks, follow him on Twitter.
Click to Embiggen: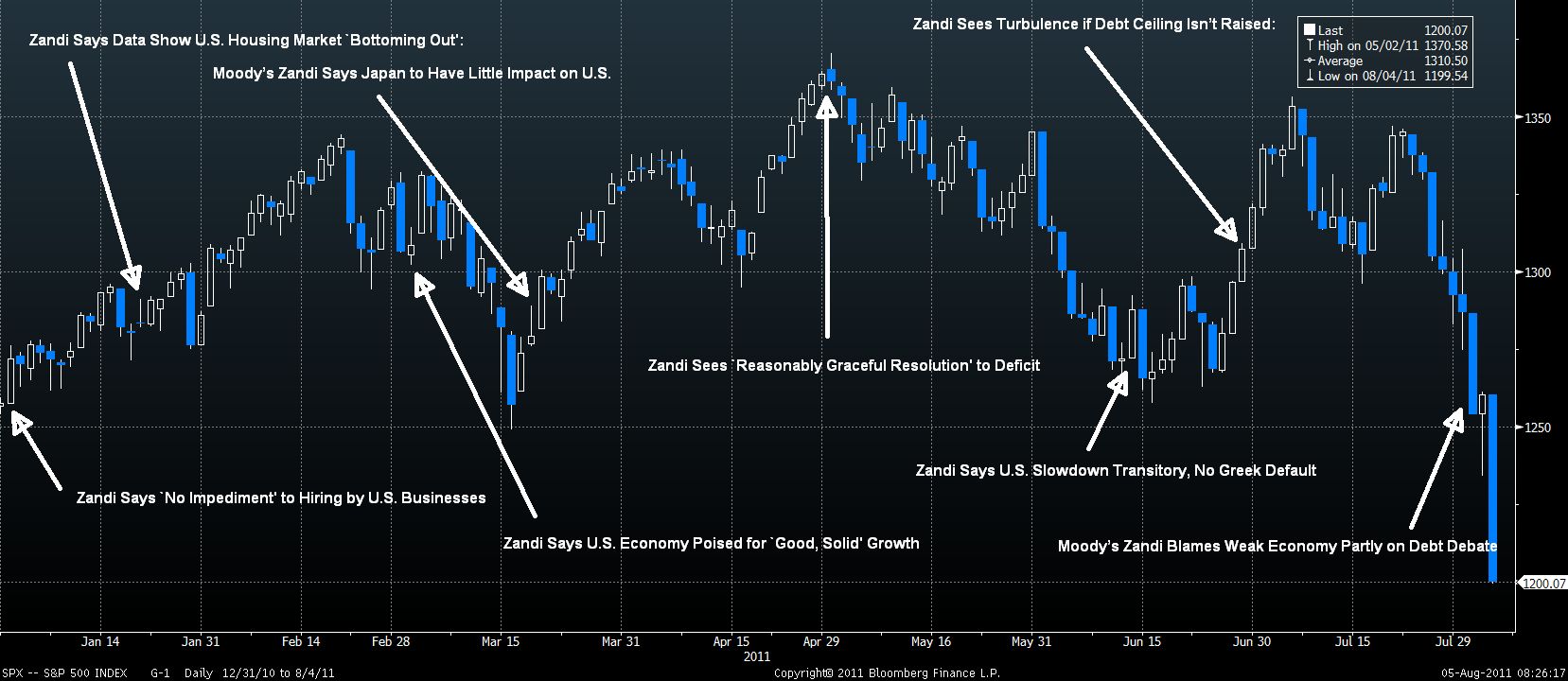 Tags: $MCO $MRK $CSCO $MS