What you're about to see below is the Caribbean bitch currently threatening the entire Eastern Seaboard with 110 mph wind speeds, 950 millibars of pressure and a whole lotta attitude.
This is a realtime screenshot (from Stormpulse) as of 5pm EST, North Carolina looks to be the first victim when Irene makes landfall…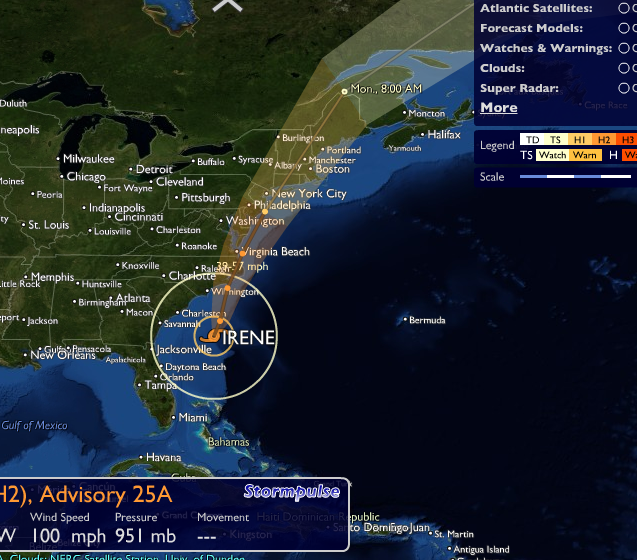 The storm is 800 miles away and is expected to hit Long Island on Sunday.
I'm doing everything I can to convince the wife and our parents to stay put in our south shore Long Island homes.  I live about 30 miles south of New York City, 5 minutes from Jones Beach and let's say 50 feet from the bay.  We hear there's a 50/50 shot they're going to evacuate us.  We're packing some bags but hoping we can simply resist and ride it out from home rather than shlepping to Westchester County in traffic.
In the meantime, I've got mad Doritos and jugs of water.  We have a clutch of flashlights and D batteries as well as a dozen of those candles that burn for 24 hours.  My neighbor across the street somehow fit all three of his Benz's in his cluttered 3-car garage and paid a team of professional carpenters to board up his windows this morning.  "Hey JB!  I have a generator so we're riding it out!"  What a dick.
I spent the afternoon dragging all the backyard furniture and garbage cans into the garage.  Then I started taping the windows until my wife looked it up on the web and started yelling at me that tape actually makes things worse.  Oops.
Anyway, if you don't hear from me tomorrow, assume I'm in evacuation mode, I guess.  But the hope is that we can hunker down as we are now and stay put. My preference is to not go anywhere just because no politician or official wants to be blamed for not taking action in a post-Katrina world.
While I'm staying put, I'll try to keep everyone updated on the storm and my Doritos consumption on Twitter.
Welcome to the Resistance.