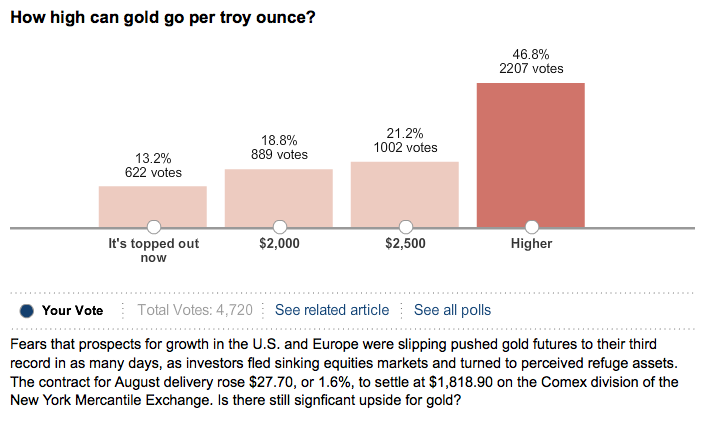 The above comes from a new Wall Street Journal reader poll on gold's price potential.
For what it's worth, the crowd sees no limit to how high gold can go.  My own opinion is that the Empire State Building shape in the chart over the last two weeks represents a new phase in the formerly staid gold bull market.  The pick-your-adjective – vertical, parabolic, blow-off – formation represents an unhealthy phase that I can show you mirrored on countless historical charts.  This kind of action usually occurrs just before at least a short-term top is put in.  Just like you don't want to see gold break through to the downside of its gorgeous long-term trend channel, you also must be reticent when it breaks through the top of it.
See the below chart from chessNwine: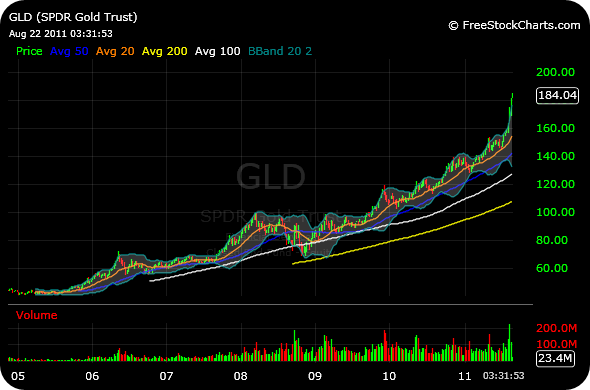 One interesting thing to consider is the glaring underperformance of the gold mining stocks this year and the fact that they could finally break out should gold maintain its current lofty levels.  As Chris Kimble notes, GDX (the large cap gold miners ETF) is flat since December 2010 while gold itself has added another 20% in gains.  It is also just nearing resistance and could finally "fulfill the prophecy".
Over at The Big Picture, Barry is looking at the GLD vs SPY story and taking that gold-to-stock ratio back to the March 2009 lows for some perspective.  Says Barry:
It could be a contrary indicator, as the two indices have moved to extremes. Equity markets are now extremely oversold, while Gold has moved parabolically. Some mean reversion would appropriate around now.
In my view, stocks deserve a bounce while gold deserves a breather, even if in both cases only temporarily.
Some thoughts on what we may be seeing from my technician friends:
Another Perspective on Shorting Gold (Dragonfly Capital)
Get Your Names Right (iBankCoin)
Gold stocks are now "back to where they were" back in December 2010…(Kimble Charting)
Diverging ETFs: What Are GLD & SPY Telling Us ? (TBP)
Full Disclosure: I remain long some gold ETFs and actively managed funds in which gold is a large component in customer accounts.  I have no long or short positions in gold personally at the current time.
Tags: $GLD $SPY $GDX