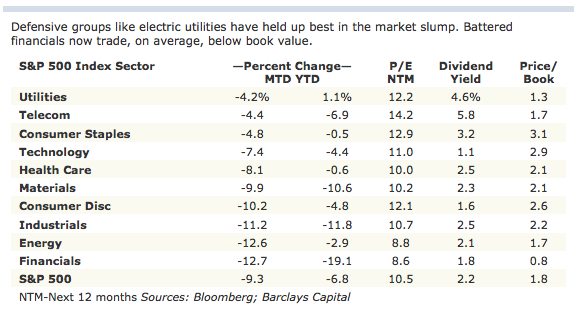 Andrew Bary has a really good article in Barron's this weekend about what S&P 500 earnings might look like if in fact we do drop into a recession.  As I tried to explain a few weeks back (Think 1938, Not 2008), recessions aren't the end of the world and they don't mean the death penalty for stocks as an asset class.
Here's Barclays Strategist Barry Knapp on what we could expect:
Knapp looked at the profit picture during recessions since World War II and found that S&P 500 profits dropped an average of 15.7%. The biggest declines came during the past two downturns, including a profit collapse of more than 50% in the 2008-2009 recession.

Knapp thinks the economy will avoid a recession, but even if there is one, he figures that the profit drop will be modest at 10% or so. The huge earnings decline in 2008-2009 was largely a result of deep losses in the financial sector, which accounted for 64% of the earnings decline from the peak in 2007 to the bottom in early 2009. The energy sector also was hit hard as oil dropped from a high of $140 a barrel to a low of $40.

"IF WE GET A RECESSION IN 2012, I would expect S&P 500 earnings to fall to something like $90" from around $96 this year, Knapp says. That would hardly be catastrophic, given that the S&P 500 now would be valued at 13 times that bearish earnings level, rather than 11 times the current consensus for about $105 in S&P profits next year.
You can own stocks through a recession, you simply must be more choosy about your styles (value over growth) and more vigilant about risk management.  The good thing about current valuations is that PEs are absurdly low in many areas (S&P 500 Tech Sector at 11 times earnings?  Whoa!) and there are plenty of companies paying dividend yields above the 2.26% on a ten year treasury.
When I hear people deny that contraction is possible, one part of me want to shake them by the shoulders and remind them that not every recession is an "endgame" or has a cataclysmic event as the cherry on top a la Lehman Brothers.
Head over to Barron's for some ultra-inexpensive stock ideas below
Source:
Tags: $SPY