From the Mailbag:
Hey Josh,
I just want to say that it's pretty telling that you have nothing to say about the News Corp scandal probably because you dont want to offend any of your WSJ friends.  Just kidding, love your blog.

– Greg S.
Okay…thanks, dick.

Anyway, you want me to weigh in?  Here's what I think…
The funniest part of it all is that all these reporters are willing to go to such desperate lengths to break a story just so Joe Weisenthal can reprint it on The Business Insider half a second later and 5000 of us can retweet it.
Great, hope that was worth it.
Attention reporters:  You won't "own" a story long enough to justify breaking the law for it, so relax.  In trading, we'd call this kind of thing an asymmetric risk-reward scenario, one that is clearly not in your favor.  They just arrested Rebekah Brooks, the editor of News of the World.  Can you imagine that conversation with her new neighbors behind bars? "What are you in for, robbery? Drug dealing?"  "No, newspapers."  GMAFB.
I'm always embarrassed for people when they don't seem to understand their own business.  I can't speak for the tabloids in Britain (I guess on Fleet Street it's still important to act like this kind of lunatic), but in general the news business is no longer about scoops or exclusives.  It hasn't been for a long time.  Reporters so desperate to get the jump on a piece of intel that they would hack someone's voicemails need to look at what year it is.  Nobody owns a scoop for more than a fraction of a second anymore.
Breaking news used to matter when there was a firm press time and then the whole next day the Big Story sat on a physical newspaper in print.  There was a time when you would buy the Daily News instead of the New York Post if it had an exclusive angle on the Big Story.  Being first mattered, it meant a whole day of newsstand business.  Now, you buy neither one of them because regardless of which one has the scoop or the inside track, you can find out everything simply by turning on your cellphone in the morning.
News breaks on Twitter and it belongs to everyone immediately, which newspaper prints it first means less than nothing.
Remember the phrase "Stop the Presses!"  Can you imagine someone shouting that now?  The presses are running 24 hours a day and cannot be stopped no matter what.
The only thing people will pay for these days is analysis; speed has been commoditized but the right way of looking at something never will be.  The very best journalists instinctually know this, that's why when news breaks we look for their stories on it, whether they were first or last being of secondary concern.
As far as what I think about Rupert Murdoch and the future of his tabloids and all that, really, who gives a shit?  If you don't work in the news business, you cant really care about that, can you?  I don't have enough time in my day to watch Michael Wolff make out with himself in the mirror, do you?  Let the media people revel in it all, I can't blame them.  But if you're not one of them just go about your business.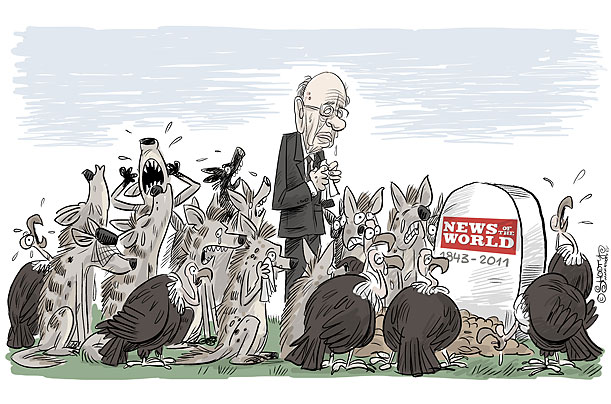 One thing I will say is that for the first time in ten years, I may be interested in the stock of News Corp ($NWS).  There are some analyses out there that say it could be as much as 30% undervalued and the whole thing has a BP feel to it (even BP was a buy at a certain price).  I'm about 20% through with my homework on NWS and I doubt the headline risk has peaked yet, but my friend Marion Maneker explained something interesting to me the other day.
Marion explained that the assets of the company (especially Fox News) have always carried a "Murdoch Discount" because it was obvious that the family wasn't going anywhere.  This scandal may accomplish the impossible before it's through and finally push the monarchy away from the crown jewels so we can really see how they work and what they're truly worth.  What does the storied and one-of-a-kind Dow Jones family of publications look and act like when it's no longer under the thumb of either the Bancrofts or the Murdochs?  Can it be, gasp, Bloomberg-esque?  Something to think about…
So my take on the scandal is that of course breaking the law is bad if that's what happened.  But in a bittersweet twist, it was all a waste of time anyway.  And some long-term good may yet come out of it for shareholders and employees after all.
Full Disclosure: I am a proud contributor to the News Corp-owned Wall Street Journal Financial Adviser blog. 
Fuller Disclosure:  I also recently ate a price club-size keg of hard pretzels in one hour just because my five year old daughter said I couldn't do it.  I sure showed her. 
Fullest disclosure: My sodium levels were probably off the charts for a week, I was taking all kinds of random naps and sweating a lot, it was really weird.