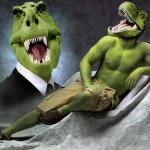 The following post is written by Dinosaur Trader. He is a stock trader. He writes about the daytrading lifestyle, parenthood, marriagehood and the often combustible mixture of the three. He is dangerous.
Creepy. Yesterday my Google email was down due to "suspicious activity." To fix it, Google wanted my phone number. Today it's fixed but my Google+ profile is suspended. I can't add people to circles.
Must be the "sex symbol" thing? (click to enlarge)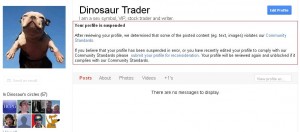 If you're old school, follow me on Twitter.