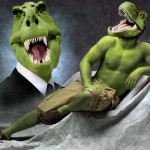 The following post is written by Dinosaur Trader. He is a stock trader. He writes about the daytrading lifestyle, parenthood, marriagehood and the often combustible mixture of the three. He adores sex workers.
"No one will ever visit you in Brooklyn," a Manhattanite friend cautioned.
But I could care less.
My college roommate J.D had introduced me to the borough. Judy and I had visited him and his wife in their Brooklyn Heights apartment. The place seemed huge. They had a kitchen that was separate from the living quarters. Places like that just didn't exist in Manhattan!
"Do you have any prostitutes or dominitrixes living here?" I asked, looking cautiously out his peephole.
"No," said J.D "Why?"
"Forget it," I said.
And we were sold. But we wanted even more value, so we centered our hunt in Park Slope.
"The sky is huuuuge," I said to Judy, wide-eyed, as we stepped out of the Grand Army Plaza station.
"You sound so gay sometimes," she said.
I went to school in the city and then lived there. Dorm rooms and cheap apartments had apparently cramped my brain. It sounds silly as I write this, far from any urban center, but Park Slope was leafy. When you looked down at the sidewalk you could see shade, from a tree! In fact, one of the first things we did was walk up to a tree that had "interesting bark." We touched it together, like it was some alien thing: a lamppost in the middle of Narnia. It was probably an Oak tree. Who knows?
Anyway, for what I was paying in Manhattan, Judy and I got nearly twice the square footage in Brooklyn. Better yet, we were now living together and splitting the bill. An old Italian lady lived below us. The only thing we heard coming from her apartment was boiling marinara sauce. There was no longer a "building management company" that ignored our requests and complaints. We saw our landlords every day when we walked down from the third floor of their brownstone. They were great people. They even lowered our rent when we offered to paint the apartment.
The landlord, a guy named Gordon, explained to me that he had done very well in a biotech stock. I forget which, because I still wasn't involved in the stock world. Basically, he was a regular dude who had gotten lucky and sold the tippy-top of a pretty monstrous move. He had cashed out and bought the brownstone; no mortgage.
When we walked down the block there was a sense of neighborhood. On nice evenings, people sat out on the stoops in front of their brownstones. They had "stoop sales" on weekends. And at night, behind all those windows, families slept. Although the car service dudes would honk at all hours of the night, Brooklyn just seemed sleepier.
We even had a local drug dealer who we came to know. He worked the corner by the car service. He was actually a nice guy who occasionally helped old ladies carry their groceries. The problem was that the car service owners didn't appreciate him. They routinely called the cops. Once when Judy and I were walking home from our favorite bar, "The Great Lakes," we heard footsteps quickly approaching. Cops were running hard in our direction. Not knowing what to do, we ducked. They flew past us and tackled the dealer who never saw them coming. Cuffed and dragged away, he was back in two weeks and laughing at us for ducking.
My favorite memories of Brooklyn however, came from our rooftop. We had full access and we'd sit up there and watch the sun set on the World Trade Center. It could be warm and humid down on the street but there was always a breeze on the roof. We followed the Mets in the summer of 1998 and we'd listen to the games on the radio. Since we had a real kitchen, we learned to cook. It didn't matter if our Manhattan friends couldn't make the trip. Things were simple. We sat on the roof eating our food experiments and let the summer pass.
The point is that something clicked for us in Brooklyn. We were young, in love, and nothing bad had happened to us yet. We probably thought the garbage was nicer there too. That would change, and I'd be leaving Brooklyn angry and anxiety-ridden only a year and a half later, but that's a future post.
Judy worked for a local retailer and I was commuting into the city to work for the internet company. Things there sucked. I had way too much self respect to continue on as a whipping boy for the sales team. In the late fall, my mother slipped on some wet grass and broke her leg. She lived alone. When I told my boss I'd have to take a few days off to help her out he wasn't happy. Without looking up from his desk he said, "If you have to do that, whatever."
I should have quit then but I didn't. I was still poor but I had just been awarded a few hundred shares of the company with a strike price of $9. I didn't know what that meant, but I now had a friend, Albert, who worked on Wall Street. He seemed like a pretty good guy to call for advice.
The stock was set to debut in a week.
Discussion points:
Was there a time in Brooklyn without hipsters?
Are you pro or anti hipster?
Did I leave you wondering WTF made me so anxious I had to leave Brooklyn?
Are you a Met fan too? I'm sorry.
Oh and, if you love hipsters, follow me on Twitter. If you think hipsters "suck dick" follow me on Twitter.
Wanna be friends? Plus me, or circle me, or whatever, on Google+.