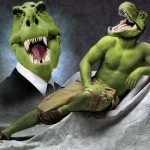 The following post is written by Dinosaur Trader. He is a stock trader. He writes about the daytrading lifestyle, parenthood, marriagehood and the often combustible mixture of the three.
I work out of a spare bedroom in my house. Sometimes I wonder if this is affecting my kids in a weird way.
Just last week, for example, I was in a heavy losing position in copper. I walked downstairs to the kitchen to grab a cup of tea. Judy was there, our new baby sleeping comfortably in her Moby wrap.
"I'm doomed," I said.
"Why?" she asked.
"Copper." I said.
My other daughter, our six year old, was at the kitchen table. I saw her slightly glance up from her bowl of blueberries. She was listening, but didn't want to be obvious about it. At her age, spying is lots of fun. But what could she possibly take from this conversation? Would she grow up hating copper forever? How could copper doom her father? What the hell was doom, anyway? Wasn't I just upstairs playing a game on the computer?
There's an obvious gap between what I do all day (trade) and what I appear to be doing all day (walking up and down stairs drinking tea). I fear this gap. I see darkness there. Darkness that will one day lead to confused therapy sessions for my shiftless daughter. "How can you tell me to get a job?" she'll bawl to me in front of an overly-paid therapist. "You never had a job!"
I've tried to bridge this gap. I've tried to show her charts. "See this mountain?" I'll ask, pointing at an uptrend. "What do you think the top will look like?"
"That's not a mountain," she'll say. "Mountains are big and brown. And they're outside."
"Okay, yeah. It's not literally a mountain," I take a breath. Pause. "Fine. It's an uptrend. Those bars represent…" But then her eyes start to glaze over and she'll look over at my cup of pens.
"Daddy? Can we play?" She grabs a couple of pens and gives me one. "You're the Daddy pen and I'm the Mommy pen. This is our baby and she has a cold…" And then my eyes start to glaze over.
Maybe six year olds can't understand trading. Okay, I get it..
But even if she could understand that I'm working, what about just having me around all the time? Lately my work attire has been board shorts and nothing else. Four computer screens make my little spare room hot. Sometimes I take a break and go out back in the garden and weed. I push the "mow lawner" around. What is she learning about work ethic here?
My father recently retired. He worked in school administration for over 35 years. He has a closet full of suits and ties. Skinny ties, fat ties, plain ties, patterned ties. It's like the history of men's fashion in there. Also crazy bottles of cologne. One is shaped like a castle, another like a Buddha. Dad would get up and head out to work each day and we wouldn't see him again until dinner time. He worked. Work meant wearing a suit, smelling nice, and leaving the house for the day.
I'd visit him at the office now and then. He had a secretary, Mrs. Bluth. She'd call into his intercom. "You have a phone call on line 2." Maybe she'd walk into the office and give him something to sign, hand him a paper he had to read. I'd sink into the deep leather chairs in his office where other people sat when they had to meet with him. He had paperweights. Something tangible happened in his office.
I'm pretty sure my daughter, despite my efforts to prove otherwise, doesn't think I work.
After I exited with a chunky loss in copper I sat staring at my monitors a few minutes. What am I doing? I wondered. Like really? I just lost a bunch of money, but had I made instead nothing would be immediately different here. I found myself growing eager to build something. I want to have something to show my kids in 20 years, something that I built. Numbers in an account won't do it.
Maybe this is it. These words. Maybe I'm not asking for a closet full of old suits. I'll just take the story that goes with them.
Some questions for discussion:
Do you work from home?
Do your kids love you or hate you for it?
Do you think Joshy wrote this post?
Was the Mixtape "totally fucked" without DT?
Is this a "fluff piece?"
Anyway… If you think it's hot but you think this post is even hotter, follow me on Twitter.
Read the rest of Dinosaur Trader's recent posts by clicking any of the last 14 words.