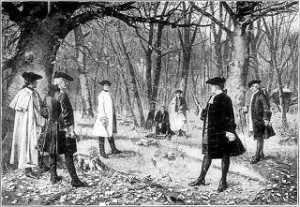 Can you imagine the Vice President of the United States gunning down the ex-Secretary of the Treasury?  That is exactly what happened today in 1804, when men were men and women weren't repulsed when making out with a dude and feeling nothing but wooden teeth in his mouth…
From Little Bits of History:
July 11, 1804: Vice President Aaron Burr kills former Secretary of the Treasury Alexander Hamilton in a duel. The two dignitaries were rowed across the Hudson River from Manhattan to the Heights of Weehawken in New Jersey. Dueling was illegal in New York. The Weehawken site was a popular place for the mostly out-of-favor method of assuaging bruised egos. Hamilton wouldn't die until the next day, but more than one life was lost on that fateful day.

The entire imbroglio began in 1791 when Burr, a Democratic-Republican took a seat in the Senate that had previously belonged to Philip Schuler, a Federalist and Hamilton's father-in-law. At the time, Hamilton was the Secretary of the Treasury. In the election of 1800, the electoral college was deadlocked and with Hamilton's influence the House of Representatives gave the Presidency to Thomas Jefferson and Burr became the Vice President.
This duel was the result of a total blood-feud, a hatred between the parties that festered until it was time for a little boom boom.
Read the back story below.
Source:
Pistols at Dawn (Little Bits of History)