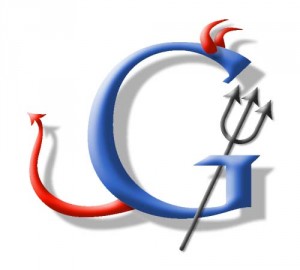 cartoon source: toonrefugee
Google's "Don't Be Evil" ethos has served it well over the years but maybe now the company is too big with too many enemies to be a good guy anymore.  Now they've got to play that horrible game that everyone else plays: Fighting and bribing and influencing etc.
From the New York Post:
Facing a broad antitrust probe into its business practices, Google has hired 12 lobbying firms, a spokeswoman from the company said yesterday.

The Federal Trade Commission, which investigates violations of antitrust law, is expected to look into complaints that Google's search results favor the company's other services, among other issues.

Google, which runs some 69 percent of Web searches worldwide, can make or break a company with its search ranking.

"We have a strong story to tell about our business, and we've sought out the best talent we can find to help tell it," the spokeswoman said.
Google owns search and ad placement and virtual mail and web video hosting and a few other things that most people don't even think about.  And now they've got to tap their inner-Microsoft in order to hold onto this dominance.
Google Signs Up 12 Lobbying Firms (NYP)
Tags: $MSFT $GOOG