Iceland is one of the great failed states of modern times, so completely wrecked that they may now have the opportunity to do something truly amazing.
Having allowed duplicitous foreign bankers and their own foolish greed destroy the financial and psychological standing of the nation, Iceland is the very definition of rock-bottom.  This was the first country to lose its government to the financial crisis of 2008 as all the large banks failed relatively quickly.  Trading in the local currency was halted and bank accounts were frozen, the Icelandic stock market dropped 90%.
When the autopsy was performed, it turned out that Iceland held €50 billion in debt (80% of which was at the banks) versus an annual GDP of €8 billion and their government had permitted it.
Their situation stands in great contrast to that of their neighbor Norway, a country where oil wealth is saved and distributed rationally and debt is a dirty word.  If this were 800 years ago, the better-off Norwegians would be sailing longships toward Iceland with conquest on their minds and herring on their breath.
But Iceland does have some things going for it, including some of the most gorgeous women in the world: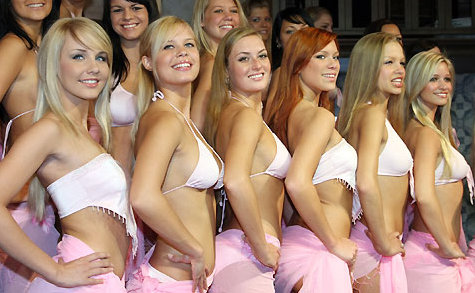 But more importantly (maybe), they've also got the will to try democracy in its purest sense – a crowdsourced constitution…
From GOOD Magazine:
In the wake of the devastating collapse of Iceland's commercial banks, the country is drawing up a new constitution, and it's doing things a little differently: It's crowdsourcing the process. For real.

The country's 25-member constituional council is posting draft clauses on its website and inviting the public to comment on them there or on its Facebook page. And their comments are actually being incorporated into the document. The council also has Twitter, YouTube, and Flickr accounts and is streaming all of its meetings live. It's perhaps the most open and participatory constitutional process in modern history (the Greeks were pretty good at democracy in their time).
Now this is a very interesting experiment and one that would be impractical for most other nations.  Why is Iceland uniquely suited for such an endeavor?
For one, Iceland's population is just barely tipping the scales at 320,000 – they can hold a vote in an open air forum by a show of hands like the island castaways from Lost.  It's also worth noting that the Icelandic population is astoundingly homogenous, 80 percent of the DNA is from the same Nordic strain while the other 20 percent is Celtic from the British Isles.  84% of Icelanders are members of either the State Church or the Lutheran church.  60% of the country's population lives in the greater Reykjavik area.
So to call this popluace "tight-knit" would be an understatement.
If anyone can pull off a truly crowdsourced set of governing principles, it's Iceland.  The rest of the world now watches to see how it develops.
Source: