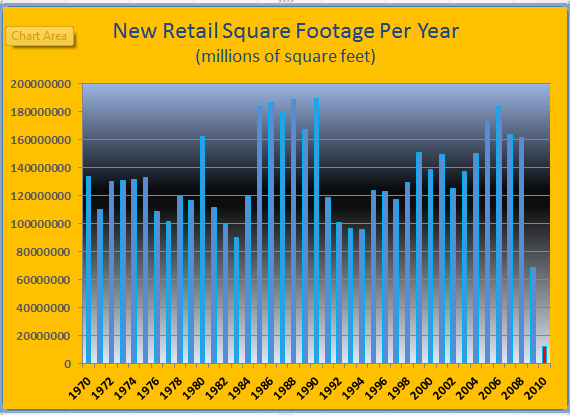 This is the type of data point that will inevitably lead to the whole structural versus cyclical debate…
Is the lack of retail square footage development simply a symptom of the lack of credit and demand in this economy (cyclical) or is it a factor of more and more shopping activity moving online forever (structural)?
CoStar Group, a leading authority on data & information on the commercial real estate (CRE) industry, tracks 69 billion square feet of space in the $11 trillion CRE industry.  They're out with some astounding facts on retail and shopping center development this morning:
New data from CoStar shows the square footage of new shopping centers developed in 2010 was a 40-year low. Specifically, 12 million square feet of shopping center space was completed in 2010, the slowest U.S. industry growth on record since at least 1971.

For comparison purposes:
– 184 million square feet of shopping center space was developed in 2006
– The 40-year average of new shopping center square footage developed each year in 132 million square feet.
The question becomes one of permanence.  Have shopping trends changed to the point these feet ain't coming back?  Or will development return once lending and borrowing gets back to a healthy level and businesses begin expanding again?
Source: