June's a sucky month for stocks a lot of the time.  This year the potential for a rough June was even greater due to the macro stuff (QE2 ending, foreign central banks tightening, housing sliding, GDP decelerating etc).
I've been trimming positions since late April and rotating into defensive stocks.  I've also been talking about the need to "know when to fold 'em" regarding commodities and industrials which had come racing through the first quarter like Formula 1 drivers.  After that blow-off top in silver, which had become the symbolic trade for the speculative class, it just felt right cool things down as spring turned to summer.
The last week in May was a major head fake that caught a lot of technicians.  Oil appeared to be coming off of a support line and rookies mistook month end mark-ups for legit accumulation.  Sold to you.
When they start talking that "bad news is good news" nonsense, I have Vietnam-esque flashbacks to 2008, and then I really want to just GTFO.
And as I mentioned on Fast Money on Thursday, this week we even started adding hedges in the form of the double short S&P and Nasdaq ETFs.
I see no catalysts to be taking new positions and I look forward to those little snapback rips as an opportunity to unload even more.
I'm not a bear, I just know what time it is.
Chart of the Day gives us this look at how much this time of year makes one wish they had stepped aside:
During the middle of a calendar year, the Dow has tended to struggle (with the exception of July). It is worth noting that there have been only two calendar months during which the Dow has declined on average — June and September.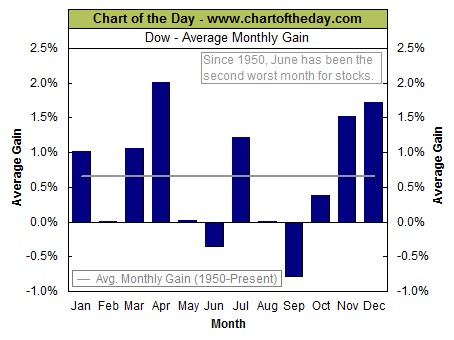 Now granted, one can't live by this almanac and calendar stuff, but its always good to keep in mind.  With few exceptions, June is a time to smell the roses, not ratchet up the risk.
Source: