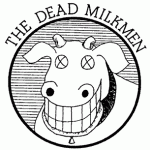 May is officially Dead Milkmen Month here on TRB. I really don't care if anyone doesn't like that. It's happening and we'll all be better people for it.
Dead Milkmen Month officially comes to an end with one of the band's best-loved tracks of all time, The Guitar Song off of 1988's Beelzebub.  Thanks for checking in this month, for the entire Milkmen Month archive, click here:
May is Dead Milkmen Month on TRB
Enjoy!