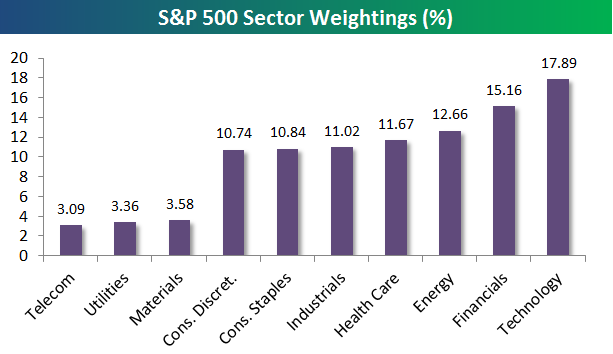 There's a great post over at the Notorious B.I.G. that the above image was attached to.  They've got historical S&P 500 sector weightings to give us an idea about which sectors are above and below the average.
I was surprised by a few of them – for example, the Materials sector is currently 3.58% below its long-term average, even despite the near-record prices for most raw goods in this day and age.  The Technology sector, on the other hand, is above its historical average weighting (17.89% of the S&P versus 12%) – but this is not surprising given that we're still plowing our way through the Digital Age.
For each of these charts, get over there below.
Source:
S&P 500 Sector Weightings; Tech Drops While Energy and Health Care Gain (Bespoke Investment Group)