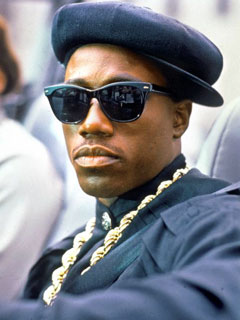 In the film New Jack City, Nino Brown (Wesley Snipes) plays a street-level crack retailer who is looking to get ahead of the competition.  The plan is to take over The Carter, a housing project complex in NY, and do his own production and distribution of the drug on an industrial scale.  The other dealers can either make and sell crack for his Cash Money Brothers syndicate or have their brains blown out in broad daylight.
Reading about Amazon's plans to expand from book retailing to book publishing and production, I couldn't help but picture Jeff Bezos getting his inner-Nino Brown on.
Mark Veverka's column in this week's Barron's tells us that Amazon has hired a veteran literary agent and publishing exec and has already begun their first publishing imprint, called Montlake Romance.  They are starting with romance novels, we are told, because they are cheap and the nitwits buyers of them consume product constantly.
The move to become a publisher might be a bit defensive as iTunes has begun to gobble up book-buying customers in the Brave New World of Apps and Devices (I am now one of them).  But make no mistake, the ultimate victim here will be the publishing houses themselves.  Imagine if Apple, now the dominant retailer of music, began signing acts like Taylor Swift and Kanye West to their own label?  The supermarkets have been doing more and more of this with private label versions of packaged foods – the results have not been kind to food company margins.
A tough business gets even tougher now as the company that controls your distribution now also competes with you.  Good luck.
Read Also:
A Big E-tailer as E-publisher (Barron's) – sub req