I'm really excited to be headed over to the 16th Annual Ira Sohn Investment Research Conference today.  If you're going to be there, be sure to come by and say hello.
Today we'll be hearing from the likes of Ackman, Einhorn and Greenblatt.  We'll get some outlooks for 2011 and some stock ideas as well.  More interesting than the picks themselves is the methodology and reasoning behind them.
Anyway, Tadas pointed me toward this link to a rundown of how the ideas from last year's Ira Sohn conference have panned out.  As you'll see below, there were both winning and losing ideas: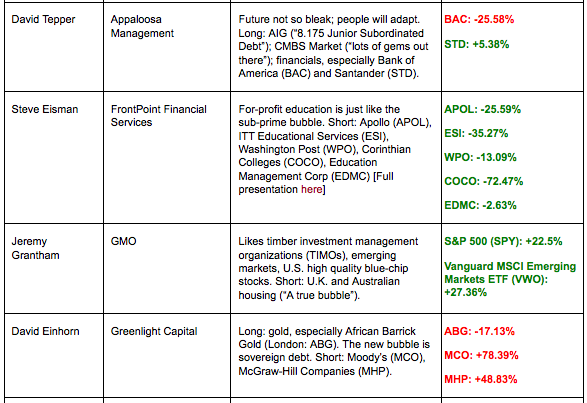 The entire chart of who said what is posted at Absolute Returns + Alpha.  You can see it at the link below.  In the meantime, I'll try to harvest the stuff I learn today into a reaction post for you guys.
Source:
Ira Sohn: Which 2010 Tips Did the Best (Absolute Returns + Alpha)