LinkedIn (LNKD) should've Gone Dutch with their IPO.  Forget every other piece of nonsense you've read this weekend and pay attention…
The firestorm about LinkedIn's IPO rages unchecked as New York Times columnist Joe Nocera does an uncharacteristically bad post about whether Morgan Stanley "scammed" their client by pricing the stock offering too low.
The whole premise is absurd.  The day before the offering everyone was criticizing the valuation as being too high!
In the meanwhile, my friend The Epicurean Dealmaker has a take that I wholly agree with.  LinkedIn did not leave billions on the table, Morgan Stanley did not steal the capital they should have been raising for the company in the form of an opening pop.  Why do we know that this the case?  TED reminds us in his oh-so subtle way:
"BECAUSE LINKEDIN ONLY SOLD FIVE POINT ONE PERCENT OF ITS F***ING STOCK, NOT THE ENTIRE COMPANY"
It don't get more simple than that.
But what's surprising to me is that these social media companies aren't doing their initial public offering using the Dutch Auction method.  It's a really simple way to make pricing democratic and demand-based – everyone who wants in gets to have a bit more impact on what the price will be.
The below explanation comes from a Forbes article from May of 2004 (written by my buddy Ari Weinberg), just as the Google IPO was starting to come together:
In a Dutch auction, a company reveals the maximum amount of shares being sold and sometimes a potential price for those shares. Investors then state the number of shares they want and at what price. Once a minimum clearing price is determined, investors who bid at least that price are awarded shares…

This method of IPO allocation can create an instant windfall for insiders by encapsulating as much market demand into the offering price as possible. And for young and growing companies, an auction allows the company to raise as much cash as the market is willing to afford it. But if the initial market demand is not there, a company putting its faith in the auction could miss out on the support of a traditional offering.
You cannot possibly tell me that this arrangement wouldn't have worked out for all involved in the LinkedIn scenario, can you?
Google pioneered this type of IPO for tech stocks way back in 2004.  In fact, their lead underwriter was also Morgan Stanley!
I'm surprised the new Silicon Valley guys aren't picking this method up for themselves as opposed to the more primitive pricing voodoo the bankers are doing now.  Dutch auctions aren't perfect, but when floats are tight and demand is off the hook, they can bring a bit more realism to the offering price process before the open of trading.
Here's an ancient but helpful New York Times infograph explaining Google's dutch auction IPO, also from 2004: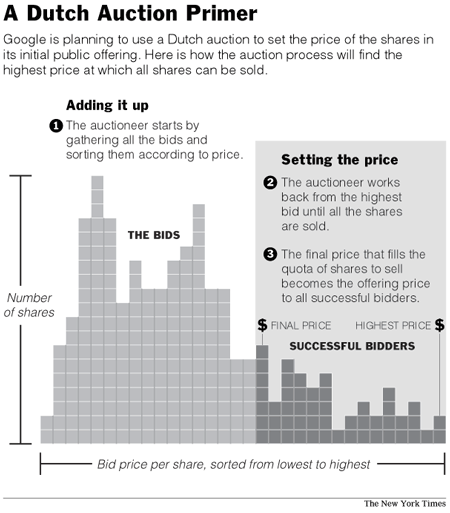 After reading what everyone has had to say on this subject, from Blodget to Cramer to the dentists and lawyers at the dinner table last night, I can't think of a better solution than to have done this deal Dutch Auction-style.  Everyone could have been satisfied that the price set was as close to "the right one" as possible.
We'll see if they get some religion before the Groupon madness begins.  Given that the very nature of these companies is social, why shouldn't the process by which they sell shares be a social exercise as well?
Sources:
Jane, You Ignorant Slut (The Epicurean Dealmaker)
IPO Dutch Auctions Vs. Traditional Allocation (Forbes)