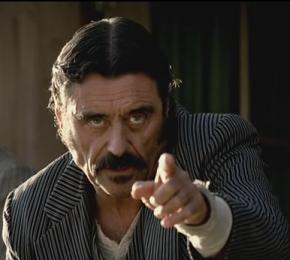 Al Swearengen had a word for the type of retail investors who dove headfirst into the silver trade at the last minute this spring.  He would call people like them "the Hoopleheads".
Those of us watching HBO's Deadwood may not have heard the term Hoopleheads before, but we immediately understood whom he was referring to – a town full of desperate losers who had chased the dream of striking it rich into the wastelands of the Dakota Territory.
And the Hoopleheads of the stock market never fail to show up at the exact most inopportune time.  It's as though they are waiting for it.  When max hysteria is finally achieved – aided and abetted by the press as usual – they grab fistfuls of cash and fling it at the sexiest vehicle in the lot.  Usually the highest beta one.
It's not the Hoopleheads' fault and I don't mean to pick on anyone; many of them are brilliant at what they do in real life but just cannot help themselves when walking by the casino.
Anyway, I have a fun activity for you guys.  I've taken out all the references to "Silver" from the below WSJ article and given you blanks instead.  Feel free to mentally write in "Cloud Computing" or "B2B Internet" or "Vegas Real Estate" or "Optical Networking" or whatever mania buzzwords you'd like, the article will still work perfectly.  It's like reckless investing Mad Libs, go ahead – knock yourselves out…
From Silver's Brutal Collapse (WSJ):
When _____  hit a three-decade high last week, David Zornetsky decided to do some buying. Searching for a job, the 31-year old in Beacon, N.Y., hoped to use gains from _____ to finance a move to New York City and to pay down student loans. "I had been hearing that ____ could go up to $150 a _____ this year," says Mr. Zornetsky.
Instead, _____ has suffered its worst one-week drubbing since ___, when _____________ and the _____ market came undone. This week's brutal tumble sent ______ prices down to $______ from nearly $______ in just five trading days, and has left Wall Street pros and individual investors dazed, some dealing with sudden losses.
"I don't understand," says Mr. Zornetsky, whose _____ investment fell about 25%. "_____ is supposed to do very well this year."
Behind _____'s historic collapse is a market that came loose of its moorings, fueled by speculative traders, many of them small investors who may have jumped in at just the wrong moment.
***
….and Scene.  You guys see what I mean?  The Song Remains not a little bit the Same, but exactly the Same.  It never changes.
I allow for the possibility that it is still early in a much larger game and that the recent margin hikes at the CME and brokerages are merely a speed bump for the silver rally.  But it is a possibility I have no interest in betting on right now.  A bounce is imminent but should the metal fail to attain its recent highs, the longs may be disappointed.  This type of lower-high price action often leads to a lower low very quickly as those who missed the chance to sell the first time throw in the towel.
My friend TA Trader points out that there may be a bubble in silver bubble talk, a top in top-calling. He is not a Hooplehead, he is a real-deal trader who has been vocally bullish on silver from the teens.  If you want to hear that argument out, he's your man, a good blogger and one with real skin in the game: