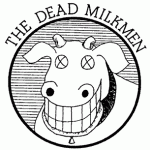 May is officially Dead Milkmen Month here on TRB. I really don't care if anyone doesn't like that. It's happening and we'll all be better people for it.
One of my faves, the paranoid and yet somehow hopeful All Around the World, off the Milkmen's 1992 'Soul Rotation'.
All Around The World – The Dead Milkmen
Lyrics below in case your Philly-to-English isn't what it used to be.
All Around the World
There are people who want to kill me all around the world
There are people who want to kill me all around the world
I know about the UFO's
I know about the UFO's
I know some things I know I shouldn't know
I know a woman who can see all around the world
I know a woman who can see all around the world
The world is full of electric signals that only she can see
And she tells me heaven's angels are watching over me
There's a radio wired to my brain
An experiment I can't explain
I can hear the sounds of UFO's
I can hear the sounds of souls cring
We are trapped inside a prison all around the world
We are trapped inside a prison all around the world
And we're the ones who hold the keys
We are our own worst enemies
We are trapped inside a prison all around the world
I know about the UFO's, I know about the mind crontrols
We are trapped inside a prison all around the world
I know about the UFO's
I know some things I know I shouldn't know
I know some things I know I shouldn't know