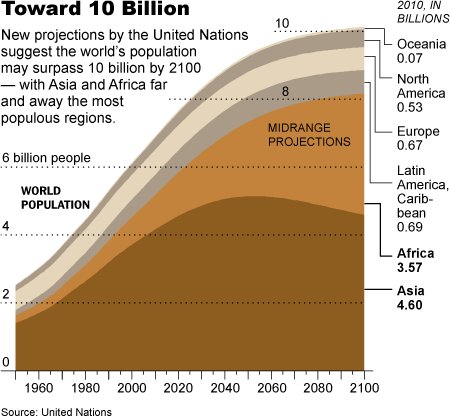 Since I'm a long-term bull on both Frontier Markets and Agriculture, I collect little tidbits and stats about global demographics and population growth.  They don't tell the whole story on their own and are prone to perversion by those looking to sell things but they serve as the foundation of my multi-decade thesis.
You may have missed this bit in the NYT yesterday about how the UN has revised its 21st Century global population estimates higher…
The population of the world, long expected to stabilize just above 9 billion in the middle of the century, will instead keep growing and may hit 10.1 billion by the year 2100, the United Nations projected in a report released Tuesday.

Growth in Africa remains so high that the population there could more than triple in this century, rising from today's one billion to 3.6 billion, the report said — a sobering forecast for a continent already struggling to provide food and water for its people.

The new report comes just ahead of a demographic milestone, with the world population expected to pass 7 billion in late October, only a dozen years after it surpassed 6 billion. Demographers called the new projections a reminder that a problem that helped define global politics in the 20th century, the population explosion, is far from solved in the 21st.
This is how I'm thinking.  I came into this game as a young punk trying to get short-term money, trading tech stocks into earnings reports and whatever.  But I'm growing up now and thinking about my own portfolio and what I want it to look like in 2020, 2030 and beyond.  And the more I think that way, the more I'm paying attention to stuff like this.
Source: