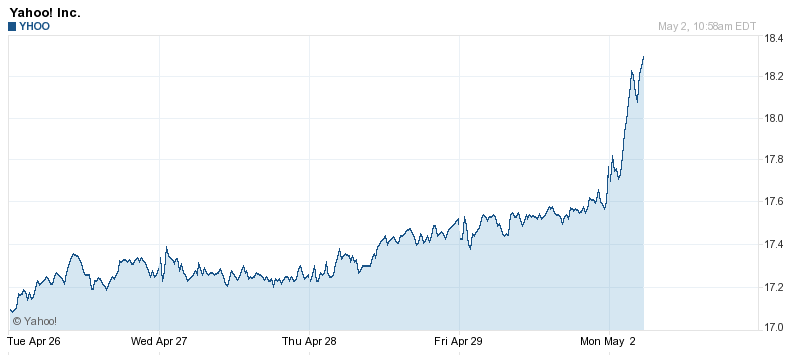 Finally, someone with the clout and capital comes along to help Yahoo common stock realize its full value.  This company has some of the most prized assets on the internet worldwide, all it needs is a little help making that fact pay off for long-suffering shareholders.
From Street Insider:
Shares of Yahoo are seeing interest early Monday following a letter from noted hedge fund manger David Eihnorn of Greenlight Capital to investors disclosing a new stake in the Internet company.

Einhorn said his fund established a position in Yahoo at a average price of $16.93. He is positive on the stock related to shareholder-friendly actions and its 40% stake in Alibaba. He said, "We would not be surprised if YHOO's 40% stake in Alibaba Group alone was ultimately worth YHOO's entire current market value."
I've been talking about the company's Asian assets and dominance in both Sports and Finance for months.  In fact, I debated this topic on Fast Money on January 5th, beating up on some poor guy who claimed the stock was a sell at 16.  Video of that is below…

I'll send you over for the details of David Einhorn's filing.  He's not always right, but the road is littered with the bodies of those who've bet against him.
Here's some color from my friend Jay at Market Folly:
http://www.marketfolly.com/2011/05/david-einhorn-covers-some-shorts-buys.html