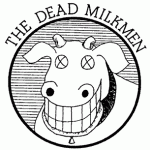 May is officially Dead Milkmen Month here on TRB.  I really don't care if anyone doesn't like that.  It's happening and we'll all be better people for it.
Tonight we'll get started with the basics, the Dead Milkmen's biggest hit song and video, Punk Rock Girl.  Released from 1988's "Beelzebubba" album, Punk Rock Girl got serious airplay on MTV and college radio stations around the country.  It was accessible enough for a new cadre of fans to jump on the bandwagon but still distinctively a Milkmen record through and through.
And it's still a gem 23 years later.
Enjoy!