I have seen the future of the fast food industry…and it's pretty awesome.
This past Thursday me and the boss, Barry Ritholtz, wandered into a space age-looking corner restaurant on 40th and Madison called 4Food.  I had never heard of it before but apparently it's been open since the end of 2010.  I have a little pictorial for you below with some snaps from my iPhone…
First, here's what the joint looks like from the outside…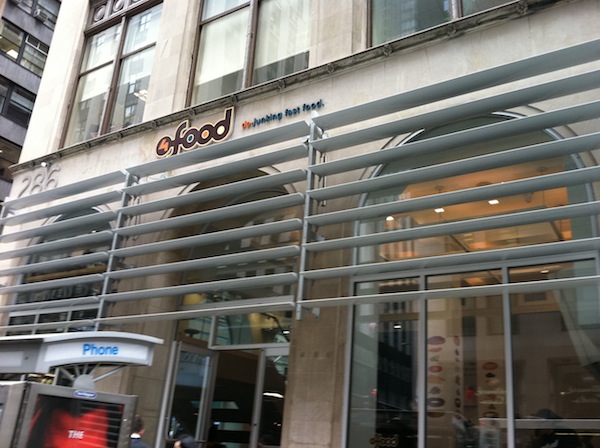 First thing you notice upon entering is this massive menu board above the counter…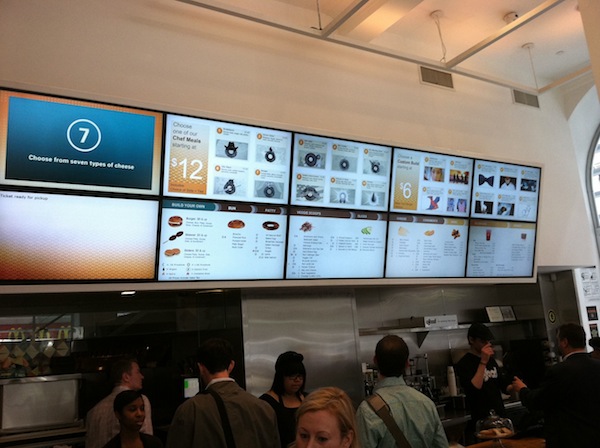 The way it works is, you pick your burger and the patty comes shaped like a ring with a hole in the center.  You get to fill it and top it.  This column explains it…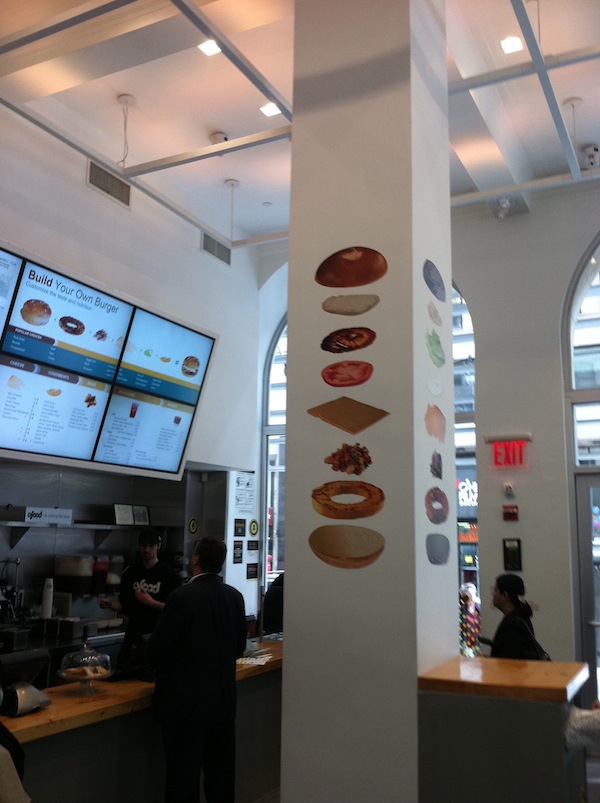 You have a ridiculous array of choices, endless really.  You pick a bun (brioche, whole grain, etc), a burger (beef, turkey, salmon, lamb, etc), then a filler for that center (vegetables, mac n cheese, so many to choose from), then a slice of something on top (bacon, avocado) then a cheese (goat cheese, cheddar, etc) and then a condiment (chili sauce, garlic mayo, etc).  Here's a look at the menu…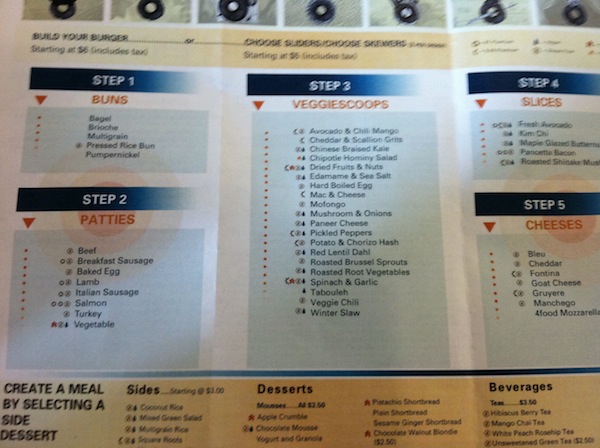 The inside of the restaurant is very modern, spacious and fashion-forward.  Here's a staircase that leads to a single table lofting above the main floor..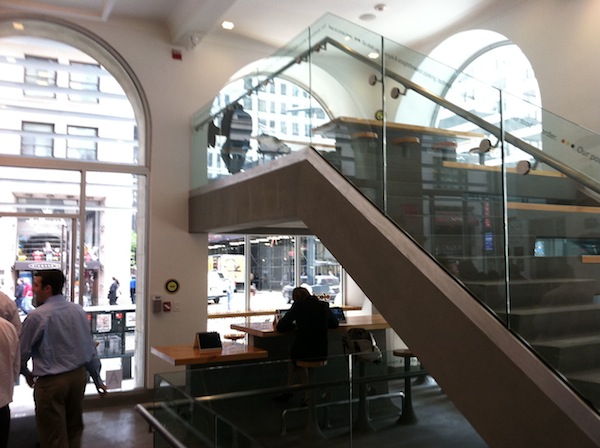 Anyway, while you wait for them to call your name to give you your burger, the tables are equipped with iPads (yes, iPads!) so you can play Angry Birds or log onto whatever you feel like.  Here's Barry, probably trying to check his traffic on The Big Picture…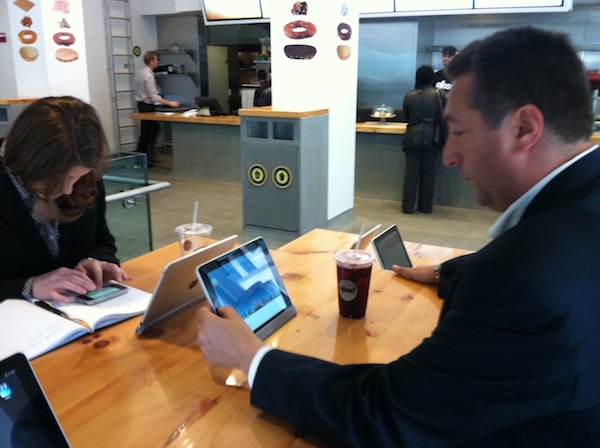 OK, the food comes…and it's delicious unless you order some hideous combination of meat, bread, topping, sauce.  I hooked it up, turkey burger filled with garlic spinach on a brioche bun with ketchup and manchego cheese.  Off the chain.  I forgot what Barry got but he loved his as well.  Here's mine…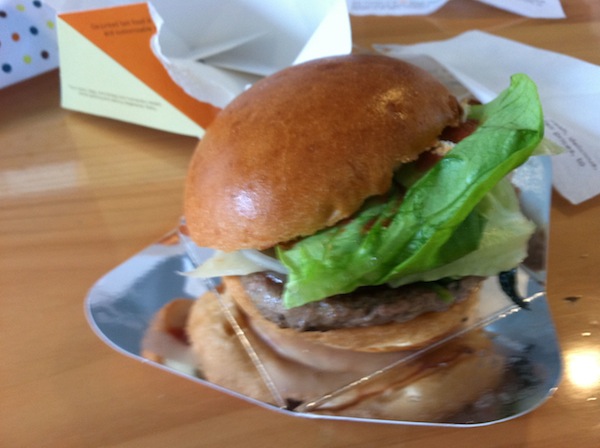 Finally, you get a super-detailed receipt, it shows you exactly how many calories you've consumed and a breakdown by ingredient on your burger…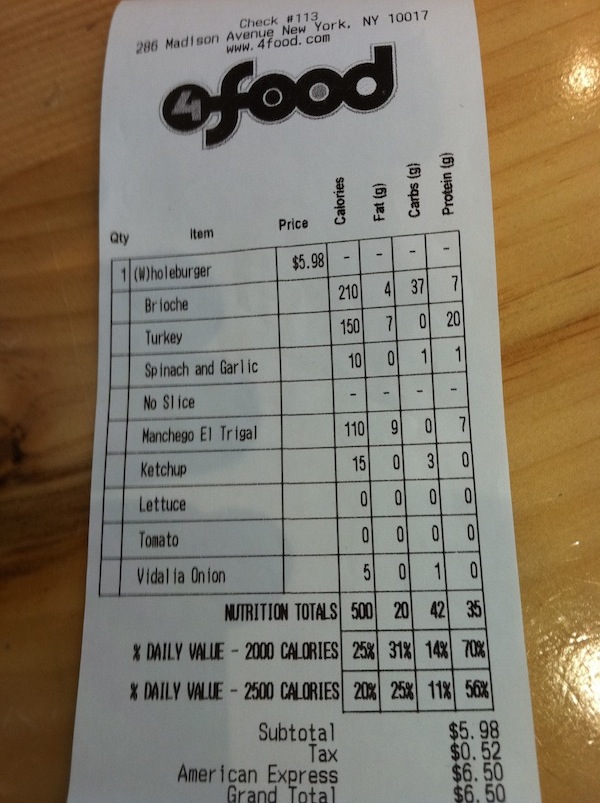 4Food is gangsta.  I don't know if it's an everyday kind of place but I plan to add it to the regular rotation for lunch during the week for sure.  The company is doing some really aggressive social media stuff that I'll just mention here briefly.  They're blasting out a newsletter each week with their most popular burger based on how many customers have ordered it.  This is like a restaurant built by quants for quants!
They've also had some celebrities create burgers, like Pee-Wee Herman's The Growing Boy burger (it's got a scoop of chorizo hash in the ring of a beef patty).  There are trending burgers and tweet streams and whatnot on the company's website, check it out below: