My friend Greg Harmon (Dragonfly Capital) has his usual Sunday round-up posted and it's a good one.  Greg uses the Sector Spyders to show us how  each S&P sector is setting up for the week ahead.
The hottest action appears to be happening in the XLY names, the consumer discretionaries.  The XLY is just now breaking the neckline of a bullish reverse head and shoulders pattern, Harmon says out of all the sectors doing so, XLY has the most room to run – 35%.
See his chart below: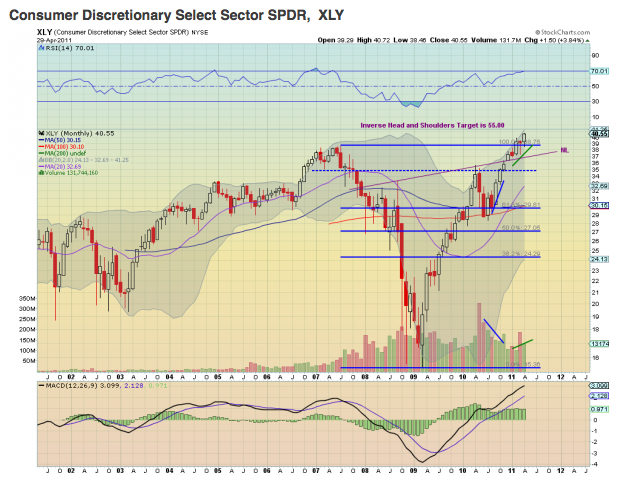 Greg says the target here could be $55 (from $40.55) and that volume has been increasing as the XLY breaks higher, a nice bit of confirmation to be sure.
Now let me line this up with something from the macro…
This coming week will be all about jobs, jobs, jobs; three employment releases that will probably move markets and say a lot about the potential for increased consumer recovery.  This is exactly the kind of thing that moves XLY consumer discretionary names.
On Wednesday, we get ADP's April employment change report
On Thursday it's the Labor Department's Weekly Jobless Claims (the last one was a negative surprise).  Also on Thursday we'll see a Q1 report on productivity and unit labor costs.
Friday is the big one, the April Jobs Report.  Can we budge from that 8.8% unemployment rate?  In March we created 216,000 jobs, how about April?
Anyway, the XLY appears to be attracting real money flow, enough to think that there are expectations of positive data on the consumer employment front coming this week.  I'm looking for some longs in the sector today, here they are sorted by market cap at Morningstar.
Source:
Head and Shoulders, Measured Moves and Dead Wait (Dragonfly Capital)
April Jobs in Focus in Coming Week (TheStreet)