Thomas Jefferson would've made a hell of a portfolio manager, Napoleon would've blown up any fund he was put at the helm of.  I've got a killer bit of history here with an investing lesson to boot, gather round children…
On this day in 1803, one of the greatest financial deals in the history of mankind was officially agreed upon.  I am of course referring to the Louisiana Purchase.  It was actually a highly leveraged deal, but a great one for the young United States and an awful sale by the French Emperor.
I'll give you a quick idea about how it all went down…
In 1801, Thomas Jefferson had sent representatives to Napoleon to discuss buying the city and port of New Orleans from the French.  Jefferson saw it as vital for access to the Mississippi trading routes.  Napoleon said no.
Things had changed over the course of the next two years, however, as the little bastard got himself into all types of expensive wars on the continent.  By the time Jefferson's next envoy, future president James Monroe, was due to arrive in Paris, Napoleon was changing his tune.
In fact, not only was he more amenable to a sale of New Orleans, he ended up offering Jefferson the entire Louisiana Territory (see map below – in yellow):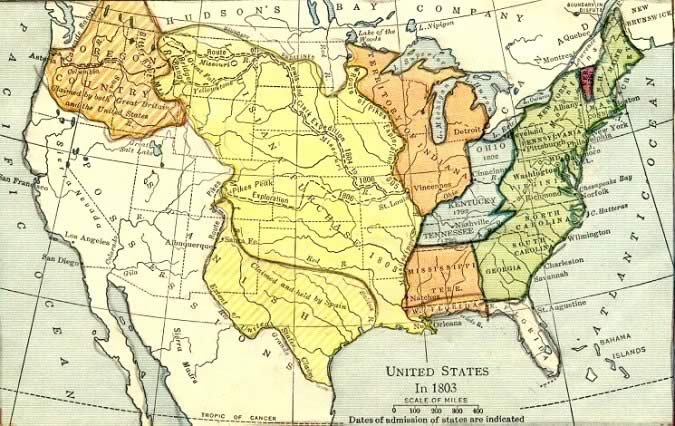 Jefferson knew a good deal when he saw one and by April's end had agreed upon the sum of $11,250,000 US dollars.  He also assumed France's debt to US citizens in the amount of $3,750,000.
With $15 million dollars, Jefferson doubled the size of the United States of America.
Now here's the kicker…the US didn't have the cash for that kind of a transaction.  So they went to Napoleon's enemy state, Great Britain, and secured a loan of $11,000,000 at a 6% interest rate.  England enabled the US to LBO the French territory away from their chief colonial and European rival.  The Spanish position in North America also got marginalized in the bargain.
Napoleon's ridiculous warmongering put him in a position where he was forced to vomit up prized assets at the worst time and price imaginable – a margin call if ever there was one.  Jefferson was willing to be opportunistic and even to take on leverage when the time was just perfect to do so.
Napoleon's backers should've asked for their funds back right then and there.  Less than a decade after his sale of the Louisiana Territory, he would embark on his final ruinous expenditure, the invasion of Russia.  In 1812, Napoleon assembled the largest army the world had ever seen, 600,000 troops from France, Italy, Poland, Germany and all corners of his empire.  Despite the warnings and protestations of virtually everyone, Napoleon would ultimately march his army unto its almost complete annihilation.
Jefferson meanwhile set his "portfolio" and its "investors" up for two centuries of uninterrupted exceptionalism.
The takeaways for investors?  Don't invest with reckless managers, await the perfect time to take advantage of desperate sellers and never be afraid to be bold when that perfect opportunity comes along.