I love Barron's and read it religiously.  One of my intermediate-term goals is an interview or a profile in its pages, so don't take this as a blanket diss by any means.
But!
But this weekend's Spring 2011 Big Money Poll scares the s*** out of me.
Here's the cover…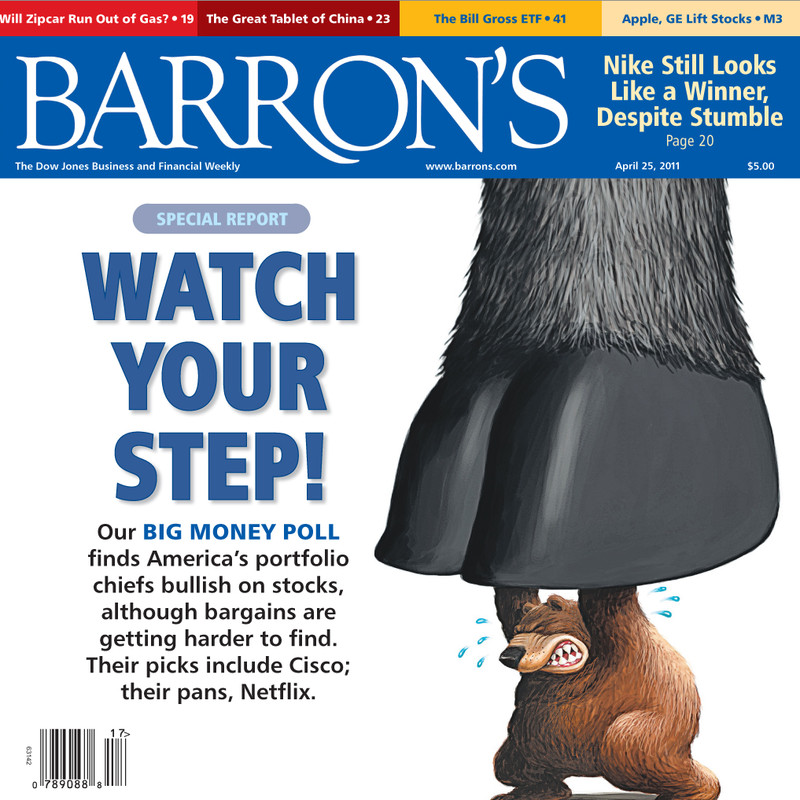 Sure, the story is appropriately loaded with the typical caveats.  And it's not a mainstream, non-Wall Street publication so it doesn't quite qualify for the famous Magazine Cover Indicator, but this exercise in institutional groupthink always gives one pause when considering its recent history.
Long story short, they interview and survey the biggest money managers in America and come up with some consensus as to how markets will fare, what sectors should outperform, what stocks are the most-favored, etc.  It's a good read, but in the agregate, completely non-actionable.  I won't keep you waiting much longer for the bullets:
*  The money managers pick large cap to outperform small cap for the 90th year running now 🙂
*  Their favorite stocks include Apple (ya don't say), Cisco, Bank of America, Abbot Labs and Ford.
*  Energy, healthcare and tech are the favored sectors (no, really?)
But here's the somewhat worrisome part:
*  They are back to being 57% bullish again (versus only 10% bearish).
*  In addition, 87% are bearish on Treasurys.
It's not that 57% is such a high number of bulls or that they can't be right, the problem is it feels like they're only bullish because they "have to be".  Their consensus target for the Dow is only 5% higher than today's level, so are they really bullish?
And keep in mind, they were at the same level of bullishness for the survey in April of 2008.  A snatch of that infamous article below:
AND NOW, FOR SOME GOOD NEWS: THE OTHER SHOE isn't going to drop. After a winter of discontent marked by massive write-offs on Wall Street and a wilting economy on Main, America's portfolio managers have declared that the worst is over. More than half of the institutional investors participating in our latest Big Money poll say they're bullish or very bullish about the prospects for stocks through the end of 2008.

– from Back in the Pool, Barron's (April 2008)
Oy vey.  So the question is, did anyone learn anything in the three years since?  Watching (and playing) the daily lunacy on my screens, I'm afraid I must answer "Maybe, but prolly not".
Source:
Watch Your Step
Money Managers are Cautiously Bullish  (Barron's – sub req'd)