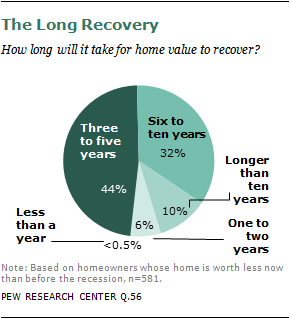 How long will it take for home prices to recover?  Well the rents are climbing in several metro areas so the truth is we can't be that far away.  Valuations won't see the levels that many are hoping for of course, but as employment rebounds and rentals get less attractive, we'll be gradually lifting off the bottom.
The Pew Research Center has a massive piece up based on a national survey of homeowners.  I carved out the below to give you an idea of how various homeowner age groups assess the time frame of a rebound…
Homeowners are not blind to what has happened to home prices, nor are they expecting a speedy recovery. Among the 1,222 homeowners in the nationwide Pew Research telephone survey, about half (47%) say their home is worth less now than before the recession began, and 31% say its value has stayed the same. Just 17% say their home is worth more.

Of those who say their home has lost value, 86% say they expect it to take at least three years for values to recover to pre-recession levels; 42% say it will take at least six years; and 10% say it will take more than 10 years.
Even with the acknowledgment that recovery is a long way off, most homeowners are still in Home Sweet Home mode psychologically.  This jibes with my comments this week about how Americans still hate stocks, even when compared to their slumping real estate.
There's some other good stuff in the report about how different generations feel about their home as an investment as well as some stats on buyer's remorse, head over at the link below.
Source:
Home Sweet Home.  Still.  (Pew Research Center)
Read Also: