I can tell you two things I know for certain:
Not a lot of Jews die in tornadoes and Americans still hate the stock market.
Follow me on this…
Gallup is reporting that only 54% of Americans are holding stocks in their retirement accounts right now.  This is down from 65% in 2007.  This is notable in that most of the losses from 2007-2009 have been regained, but way less people got these comeback gains.  You've probably seen this chart bouncing around this week: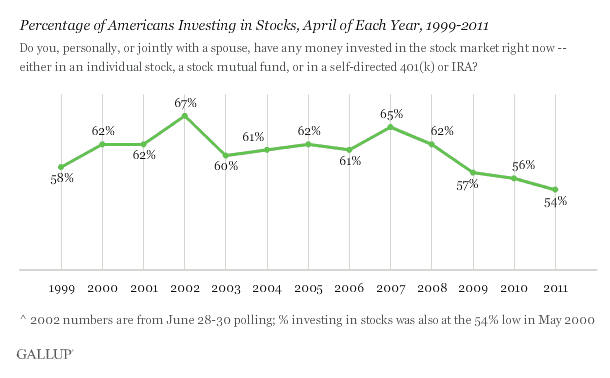 As a broker in the 90's, I was trained brainwashed to believe that stocks were America's true national pastime, not baseball, which had recently canceled a season over player salaries and had just entered its own steroid-tainted Crisis of Conscience.  And perhaps that was true.  The Boomers were really coming into their own financially and the blue chip, buy-what-you-know approach was working in a major way (look at what Coca-Cola and McDonalds and Pfizer shares were doing for the amateurs' portfolios in that period).
Well, it ain't the 90's anymore and the Boomers are now 12 years older with nothing to show for the cycle of torture they've been through.  Hell, they don't even recognize the companies they're invested in now.  "What the f*** is an 'Akamai' and why can't stocks just be understandable again?"
The investing class has instead pulled its collective head back into its weathered shell and mentally retreated back to the (relative) safety of looking at their own homes as a preferred investment class.  And why shouldn't they?  Their home isn't a China Play or a Precious Metals Hedge or a Leveraged Exchange Traded Note or whatever the hell else is scaring them away from the new, unintelligible stock market.  People don't need to understand the nuances of foreign currency exchange rates and their correlative effects on stocks in order to appreciate the investment value of their homes – even if the price is lower than it was in 2006.
The home-as-investment concept is Chicken Soup – comfort food for the confused and consigned.  It is a Steve Miller Band song in the midst of a Radiohead playlist.
And the leading causes of death for Jews are, in this order:
1.  Nagging
2.  Guilt
3.  Heart Attack
4.  Old Age
5.  Disappointment
You'll note that being found dead under an overturned trailer in a twister's destructive wake is simply not in the cards for your average Scheinwald.  I have no hard data to back this up, but I know it for certain – just as I know that Americans want nothing to do with the stock market circa 2011.  I speak to hundreds of investors a month and sees dozens of portfolios, the equity holdings in many of them are accidental (a loss I didn't feel like taking) or cursory (my financial guy says I have to have some stocks) or of a cult variety (the only stock I'll never sell is my Apple) or fear-based (well my GLD position is not exactly a vote of confidence in the market, now is it).
This lack of participation is glaring and ongoing, we didn't need Gallup to tell us this.  And as to the sentiment numbers from week to week…let's just say they are surveying the diehards at this point – those who have never left.  The real sentiment is neither bullish nor bearish, it is absent entirely.