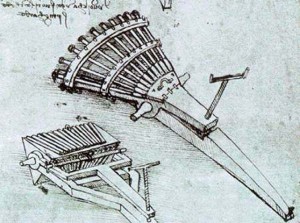 Yesterday was Leonardo da Vinci's birthday, he was born on April 15th 1452.  He may have been the most gifted man who ever walked the earth and I am endlessly facinated with the details of his life and deeds.  I was thinking about how Leonardo was the Steve Jobs of his day.  I'm not totally in love with that analogy because da Vinci never really found full-blown commercial success.
His art was merely humored by many of his noble and regal patrons – they truly wanted him around for his siegecraft and weapons of war (see his early sketch of a machine gun prototype above).
Little Bits of History has brief chronology of his life, one day I'll do a book list for you guys to really get to know him…
April 15, 1452: Leonardo di ser Piero da Vinci is born. He was the son of Piero da Vinci, a local notary or lawyer. His mother was a peasant woman name Caterina and she was not married to his father. Leonardo was a polymath, meaning he was interested in a variety of topics. He was a painter, sculptor, architect, musician, scientist, mathematician, engineer, inventor, anatomist, geologist, cartographer, botanist, and writer. He was the archetype of the Renaissance Man. He is considered one of the greatest painters of all time and in addition was one of the most diversely talented people, as well.
Read the rest below.
Source: