God this drives me crazy…
I want to like Clusterstock, I really do.  My buddy Joe Weisenthal, the Main Man there, is a blogging beast – unstoppable and well-versed on a huge variety of finance-related topics.  There are plenty of good bloggers and interesting stories at Business Insider, Silicon Alley Insider etc.  I thought this week's stuff from Nicholas Carlson about the forgotten co-founder of Twitter was an incredible series of blog posts, for example.
And then, just when I'm rooting for The Business Insider again, they show us the lengths they will go to just to throw that extra few pages up.  I cannot understand why they would dilute the hard work of their own in-house talent with some of the spam they run right alongside it.
This article I'm about to Freddy Krueger is straight out of Content Farm 101:
5 Stocks Snapped Up By Legendary Money Manager Ken Fisher is the headline.  You already know this is just another in an endless series of 13F-scraping timewasters – you've been reading these articles for ten years on the web and even longer in print.  Even the guy who invented this genre of post, James Altucher, can't physically bring himself to write them anymore.
Let's dive in…
1.  To start with, why is this article even here?  Clusterstock has a lot of fun stuff on their site but they should leave the investment ideas to the professionals, like those you find on the StockTwits blog network for example.
2.  Look at the byline, the article is written by Stockpickr, a wholly-owned something-or-other of TheStreet.com.  So TSC is now syndicating their stuff over at The Business Insider?  What a sad state of affairs for them.  I have no idea how TSC survives in the end.  "Having cash" is not a business model, they missed social media completely and they never, ever link to bloggers.  Just embarrassing, if I were in charge of TheStreet.com they would be the biggest financial site in the United States in 6 months.
Guaranteed.
3.  The content of the article itself, forgetting about where it comes from, is garbage.  It has zero value.  The "writer" from Stockpickr basically names five stocks in Fisher's latest filings, which are already anywhere from 45 to 120 days out of date.  Instead of giving us an idea of how many shares were purchased, whether or not these positions are new or anything of substance to an investor, we instead get the Yahoo Finance summary of what the company is.  Like I mean: "Nike has long been the standard bearer of the sports apparel industry" – whatever the f*** that means.
4.  Hey bloggers, wanna truly show the readers how little respect you have for them or how meaningless you know your work truly is?  Blurry charts of each stock is a good start.  Blurry!  Seriously, how busy are you?  And the "chart controls" icon, you couldn't be bothered to crop that out or source your charts elsewhere?  Think I'm being a dick?  Here's exactly what they put up in the post, five times: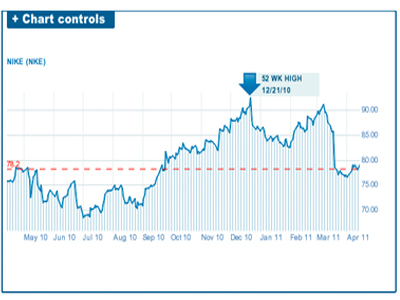 It's like, "Here, an obligatory chart, I know nobody's reading this anyway, it only exists so we can put a banner ad above it."
5.  Since when is Ken Fisher legendary as a money manager?  Longevity and asset-gathering success do not constitute being "legendary".  Jeremy Grantham (GMO) is legendary, one of the few guys to almost always get it right in the end.  Mario Gabelli is legendary, his flagship fund has actually trounced the market by a serious margin over the long-term.  Fisher is very successful at turning books into AUM.  $36 billion under his wing is an accomplishment, but it doesn't make him a Legend.
6.  OK, then you start to read the actual writing itself and you're forced to ask if the writer is drunk while putting this waste of time together.  Here's the closing paragraph – UNEDITED, exactly as it appears at both TheStreet and at the "Clusterstock We'll-Print-Anything Corral":
Those moves have kept the company's balance sheet enviable right now — and important factor as economic worries continue to weigh on retail investors.  As investors keep trading back up to Sara Lee's brands, the company should see continued growth in 2011
The grammar of the first sentence is atrocious, the "have kept" being out of sync with the "right now".  And NOBODY envies Sara Lee, balance sheet or otherwise.  Kraft Foods would commit suicide if they had to spend  7 years on a never-ending restructuring plan.  Then he tells us "those moves" are "and important factor", so we know for a fact that no one vetted this content at all.  We are also told that "economic worries continue to weigh on retail investors", umm no – retail investor bullishness is a raging inferno right now, sentiment and equity fund flows confirm this each week.  And then he tells us that "investors keep trading up to Sara Lee's brands" – there are 36 things wrong with this phrase.  he means Customers trading up, not Investors.  What do investors buying Sara Lee-brand products have to do with anything?  Also, Sara Lee is a trade-down brand, Wal-Mart schlock, it is not a trade-up brand.
I could do this forever but I think my point has been made.  This article is just one example of the assembly-line nightmare the financial web is becoming.
No one will care unfortunately.  TheStreet will keep allowing it's people to tarnish its reputation in an endless race to the bottom and Clusterstock will print whatever TheStreet sends it without even a glance.  And then the sun comes up tomorrow and this process will be repeated.  Over and over again until Henry finds a buyer.
I want to be a fan of The Business Insider, but they only care about page views while I only care about good reading.  Makes it really tough for us to get along.
Read Also: