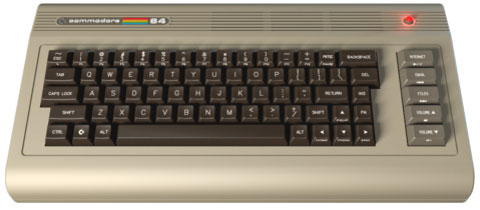 The Commodore 64 was the greatest computer ever.  It did almost nothing but it was the original must-have computing device that truly spurred the PC revolution.  And I loved the beige-ness of it, the clunkiness, all of it.  I still remember asking a department store Santa for one at Roosevelt Field Mall.
So here's some coolness – the Commodore 64 is coming back, still an all-in-one device you plug into a monitor but this time it's got the blood and guts of a modern machine.  USB ports, optional Blu-Ray drive etc.
Here's the New York Times Bits blog:
Barry Altman, president and chief executive of Commodore USA, said he purchased the Commodore trademark in September of last year with the goal of reviving the company and offering a product that no longer exists.

"Thirty years ago computers were an all-in-one product, with the keyboard, memory and components built inside," Mr. Altman explained. "Over the years that has changed,  and we believe there is a huge potential to revive the early format."

The new Commodore 64, which will begin shipping at the end of the month, has been souped up for the modern age. It comes with a 1.8 gigahertz dual-core processor, an optional Blu-ray player and built-in ethernet and HDMI ports. It runs the Linux operating system but the company says you can install Windows if you like. The new Commodore is priced between $250 to $900.
OMG I want one, don't tell that to my iPad though…
Source: