Can Frontier and Emerging Markets stocks offer our portfolios a hedge against the looming debt crisis of the developed world?
I've been involved with Frontier Markets investing for a long time and have blogged quite a bit about the topic.  Performance for the asset class has been horrendous over the last few months owing to two major factors: Inflation-fighting and the Middle Eastern protest explosion.
Central bankers in India, Brazil and China are raising reserve requirements and tightening interest rates to protect themselves from, well, us and Europe.  This has eased the investment throttle back on the Emerging Markets/BRIC theme and by extension the Frontier theme.  Concurrently, Egyptian protests-turned-violent combined with related events in Yemen, Saudi Arabia, Syria and, of course, Libya have spooked markets in the MENA (Middle East Northern Africa) region and slammed many Frontier ETFs and Mutual Funds in the stocks.
But a study from State Street Global Advisors says the market's got it all wrong.  It posits that markets like Turkey and Colombia are a safer haven from the even bigger risks of the developed international countries that investors are more comfortable with.
Here is State Street's Chris Laine as quoted by Financial Planning:
"Many of these economies offer value, growth and solid profitability," he added.

International markets have long been the purvey of astute institutional and individual investors looking to either hedge against volatility in the U.S, Asia and Europe or to capitalize on growth industries popping up in markets where labor is cheaper, regulation is minimal and governments are bending over backwards to attract foreign investments.
I've got to be honest, as enamored as I am with the longer-term opportunities in places like Colombia, Turkey, Chile, the Czech Republic, Egypt, Hungary, Israel, Peru, Poland, Thailand and the Philippines I've never heard them mentioned as a "hedge against the volatility in the U.S., Asia and Europe" before.  I think the theory is interesting, though in practice, it is likely wrong.  The reality goes something more like this:
Europe or the US or both experience the next financial crisis (the last one occurred in '08 so the clock's already ticking).
US and European stocks are dragged down while liquidity held in overseas assets is drained back into developed markets and currencies.
Commodities crumble once again as all speculative fervor dies down and the financial players driving the action all hit the exits at the same time.
Lower commodities make the Frontier countries much less attractive; many of them are merely exporters with economies driven primarily by demand from the BRIC/Developed markets.  In fact, some of these nations have markets that correlate almost perfectly with the Jeffries CRB Index of commodity prices.
In the end, the stocks in Frontier Markets drop faster and harder than those of the US and Europe as their markets are less developed and the capital pools supporting them are significantly shallower.
While it is true that stocks in foreign markets like Asia have rebounded faster and harder before, they certainly cannot be called hedges.  For a reference point, have a look at how the Frontiers (in Green) have fared over the last four years against their Developed peers (Orange = US and Blue = Europe):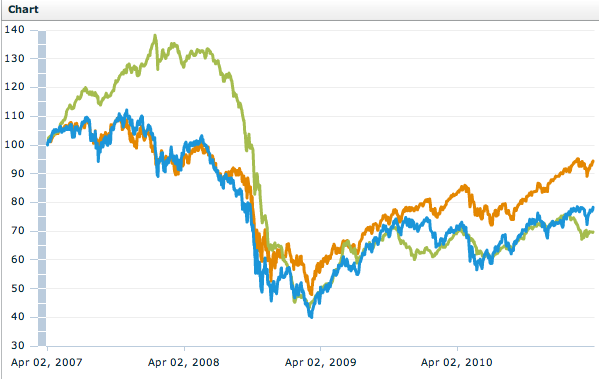 Does that look like a hedge to you or just a more exaggerated version of the US?  Decoupling in a crisis is a myth, we've already learned that the hard way.
Anyway, I like Frontier Markets equities for what they are, respecting the fact that with monstrous growth potential also comes the possibility of major downside risk.  Regardless of the demographic underpinnings of these stories, I continue to view them as part of the higher-risk slice of my portfolios.  To refer to the the Chilean stock market as a hedge is foolish, inaccurate and unnecessary.
Source:
Investors Warm to New Group of Emerging Markets (Financial Planning)