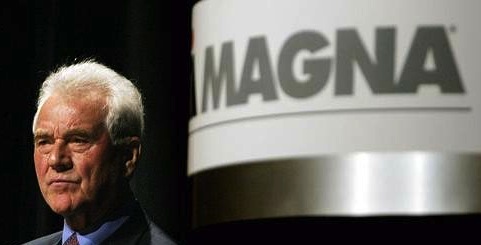 I once was involved in a stock called Magna Entertainment.  It was one of the biggest pieces of s*** I've ever bought.  I don't even want to Google it to see what happened to it.  The symbol was MECA, s'il vous plait.
Frank Stronach, the auto parts king of Canada and founder of Magna International ($MGA), was the money behind Magna Entertainment.  It was his pet, a horse racing roll-up that was seeking to add slot machines to all the racetracks it was buying.  The company was to be the Wynn Resorts ($WYNN) of the Racino business.  What a joke.  David Einhorn's Greenlight Capital was invested in the parent company's stock fighting the bankrolling of Magna Enertainment tooth and nail.  He was right, it was dumb.
But Stronach was like a freak for horseracing.  he started buying up every premier and famous track in North America – like Santa Anita in California where Seabiscuit raced.  He was simultaneously lobbying the locals to allow for slots to be placed trackside.  Worked in some cities didn't work in others.
Horse track betting is for old people and dirtbags.  Einhorn probably knew that.
Anyway, Frank Stronach is now 78 and has just announced his retirement.  He was an absolute beast of a player in his day, boys with Bill Clinton even.  There were rumors that Clinton was involved with his daughter I think.  Google it.  Here's Belinda Stronach with Bill: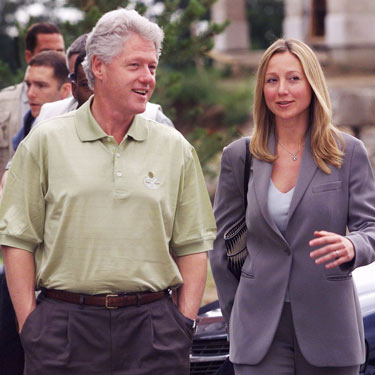 Anyway, there's a send-off for the man who would be Racetrack King in The Globe and Mail.  Here's what a professor who's written about him says:
He described Mr. Stronach as a Canadian "industrial revolutionary."

"There's only three products and three firms that really make a difference globally," he said. "There's RIM [Research In Motion], there's Bombardier and there's Magna."

Nonetheless, Mr. Stronach's rags-to-riches story – he arrived in Canada from his native Austria in 1954 with about $40 in his pocket – has been marked by controversy.

The high-growth years of the 1990s were turbulent, marked by criticism of his compensation, forays into non-automotive ventures such as a proposed theme park in his native Austria, his failed effort to overhaul the North American horse racing industry – one of Mr. Stronach's passions – and most recently, the massive premium he sought to buy out his controlling interest in the company.
Stronach was an interesting character.  Hard working, quick when opportunity came along, but really silly with his choice of vanity projects.  I recommend this article to all students of business and capitalism.
Source:
Frank Stronach to step down as chairman of Magna (The Globe and Mail)