Farmer Brown here.
The USDA's crop report jerked the entire ag complex higher this morning.
Here's a look at Agrium ($AGU), full disclosure: I'm long…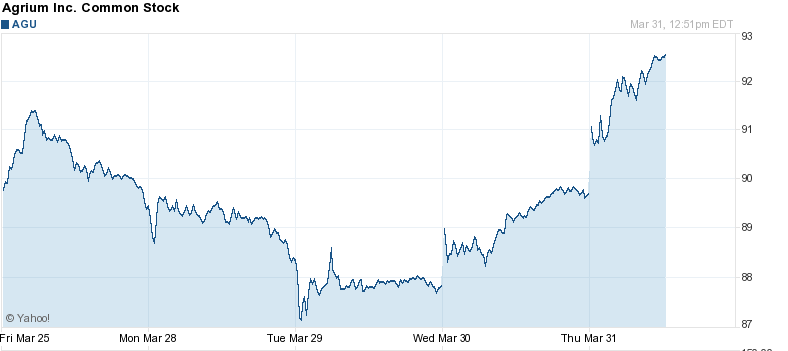 The Wall Street Journal has some data:
U.S. farmers chasing high prices will be planting 92.178 million acres of corn this year, a 5% increase from last year, while land going into soybean production is expected to slip slightly, the U.S. Department of Agriculture said Thursday in its annual Prospective Plantings report.

"Planted [corn] acreage is expected to be up in most states compared to last year due to higher prices and grower expectations of better net returns," the USDA said in the report.

The new corn planting forecast is also slightly higher than the 92 million acres USDA predicted in late February during its annual outlook conference and surpassed most analysts expectations.
In addition to the corn chase, cotton acreage will rise virtually everywhere possible.  Now let me explain one thing here – with corn prices , the buyers (food companies) can offset costs by shrinking the package.  There is some "give" there.  With cotton prices, however, apparel makers cant shrink an X-Large down to a Large sized garment.  They're simply going to have to pass on the costs or eat them internally.
Source:
Corn Planting to Rise as Farmers Chase High Prices (WSJ)