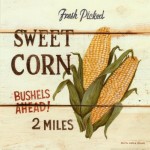 Farmer Brown here…
There's a Holy Grail for every industry, for Agriculture it's attaining the highest yields possible per acre while using the least amount of water and doing the least amount of damage to the soil with chemicals.  Or something like that.
And as evil as Monsanto ($MON) can be (and oh my god can they twirl their mustaches with the best of 'em), they may be onto something big.  One of my fave ag trading bloggers Tom Grisafi snagged this story from the Wisconsin Agriculturist…
Maybe not today. Maybe not tomorrow. But within the next half century, we could see 300 bushels per acre for corn.

According to a new report from Wisconsin Agriculturist, Monsanto is touting 300 bushels of corn per acre (average) by 2030, much sooner than others predict…Rob Fraley, one of Monsanto's highest-ranking research officers, says Monsanto is convinced that this could happen.

They base it on advances in yield over the past decade, and their expectation of advances in yield in the coming nearly two decades, based on the technologies they and others will hopefully bring to the market.
The semiconductor business carries on under the maxim of Moore's Law, which the New York Times explains thusly:
Moore's Law, named after the Intel co-founder Gordon Moore, who in 1965 predicted that the density of transistors on integrated circuits would double every 18 months or so. Physics, along with ingenuity and investment, made that forecast of performance-doubling every year and a half accurate so far.
Corn right now is typically a yield of 155 to 160 bushels per acre, so the Monsanto engineer's are speculation is that two decades from now we'll see a double in output.  That may seem glacial to you compared to a doubling in microchip power every 18 months…until you take a step back and consider that corn and other agricultural products have been produced by farmers for tens of thousands of years.
In that regard, a double in bushels per corn-planted acre over only 20 years is nothing short of a world-changing revolution.
Think about it.
Sources:
Monsanto Predicts 300 Bushels Per Acre for Corn (Indiana Grain Co)