Early last week I began taking advantage of the massive Japanese stock sell-off with purchases of two Japanese small cap ETFs.  I talked about these buys on CNBC this past Wednesday (below)…
The trade was a monster – the entire Japanese equity market began a rally mid-week while the ETFs and ADRs were up 10-15% almost across the board.  Small caps led the charge as I had expected and by Friday I began adding stops to protect my gains.
I wasn't the only one buying the weakness in Japan stocks this past week, according to Lipper (via Reuters):
* Investors pump record $956 mln into Japan equity funds
* iShares MSCI Japan fund record inflow of $860 million
Now as far as my exit strategy on the trade, using trailing stops, there is a potential flaw…
The big problem with stops on an international ETF like my $DFJ and $SCJ longs is that gaps down are a given – gaps that can render a stop loss completely worthless by turning it into a market order significantly lower than where you intended.  This is why opens must be watched like a hawk.
One alternative would be to use Sell Stop Limit orders, of course.  These would guarantee my intended stop-out price but in the event of a gap-down open, I am stuck long as the stop limit order does not become a market order if the price is violated on a gap through it.
Anyway, I think I'm OK going into the Monday open.  The news flow out of Fukushima seems unchanged and the Libyan bombing does not appear to be sending oil screaming or stocks plummeting so far.  In the meanwhile, as Barry noted, Barron's has a massive cover story called Buy Japan Now on the newsstands.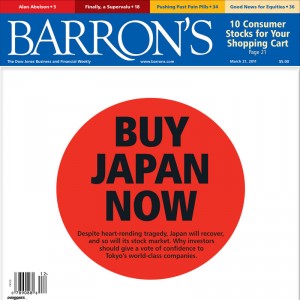 I'm not sure if the fabled Barron's Bounce will move stocks in Japan on Japanese markets but I suppose it's possible.  If so, I may simply have to raise my stops on this trade.  This is something I'm more than happy to do, believe me.
Read Also: