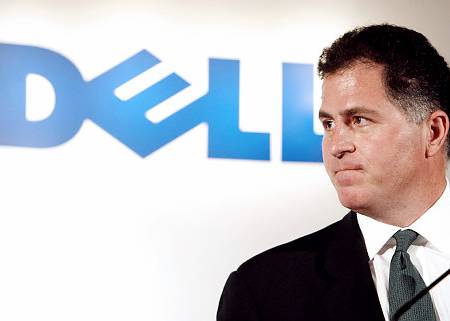 "Box Maker".  "Commoditized".  "Also-Ran".  "The Next Compaq/Gateway/Tandy".
These are the types of insults heard by Michael Dell and his employees every day.  There were similar insults hurled at Apple less than 10 years ago when it looked as though there would never be a non-PC computer sold ever again.  Michael Dell himself was quoted as saying that Apple should just return cash to the shareholders and close up shop in 1997.
Then it became the most valuable technology company in the world.
Dell's challenges and potential advantages today are different from what Steve Jobs and Apple faced in 2001 but the similarities in their critics' fatalistic remarks cannot be ignored.
Also, Michael Dell is buying stock.
Insider Trade Reports has the details…
1. Dell Inc. (DELL): $14.51

Chairman and CEO Michael S. Dell acquired 10.437 million shares of Dell, paying $14.37 per share for a total amount of $150.02 million. Mr. Dell increased his stake by 4.48% to 243.35 million shares with this purchase.

This follows a $100 million purchase by him in mid-December. Two other directors also purchased shares over the last six months.
Josh here, Dell's purchase puts him back above 12% ownership of his namesake company.  Right now Dell is selling for 3.5 times book, 10 times earnings and a price to sales ratio of .44.  The market cap is under $28 billion with over $67 billion in sales expected this year.
He has his work cut out for him at the company for sure, the headwinds are well known:
The Dell Streak tablet is a zero in terms of mindshare right now
Deflation in the PC business is permanent, competition from HPQ/Sony on the high end and virtually everyone on the low end
The world has moved on to smartphones from desktops, to MacBooks and tablets from laptops
Nobody understands the Perot Systems software biz at Dell and how it relates to anything else the company is doing
Cutbacks from state, local and federal government combined with jobless recovery means less large-scale PC shipments at the enterprise level
Now I'm not saying that Dell can overcome these factors, what I am saying is that their confluence and obviousness have produced a one-way consensus on the company that points inexorably toward failure.  The name is treated as though nothing can possibly go right.
In the interest of full disclosure, I have some clients long the stock as it generated a quantitative and technical buy signal recently in one of the models we run.  It is a small position in the scheme of things but it has led me to look at the company fundamentally for the first time in, well, forever.
The picture is not pretty, but with Michael's added $150 million vote of confidence purchase this week, perhaps we're all missing something.
Source: