Grow or go away, tech investors aren't interested in how low your PE is.
Anyone who tells you that a technology stock is "cheap" on a price to sales ratio doesn't know anything about tech investing.  When they're trading at low PEs its usually because they are done growing.  Microsoft and Intel have been cheap on these Graham and Dodd metrics for 9 years, no one cares.
There are exceptions of course.  Some big, cheap tech stocks can find new growth markets (Oracle and IBM come to mind) and sometimes the market treats a stock as though nothing will ever go right for the company again (think Apple at $16 with 13 bucks in net cash back in 2001).  But exceptions are just that – exceptions.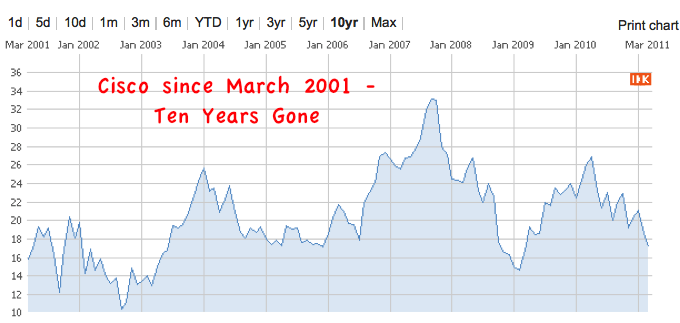 Cisco ($CSCO) has been a "bargain" for quite a while now.  But the stock never works for investors over any appreciable amount of time because it can't grow the way it used to.  The trouble is that so much of it is still owned by growth-oriented investors and funds.
They are ridiculously big as it is, they cannot conceivably return to the growth rates the company became known for.  The end markets they sell into simply aren't growing fast enough and in terms of market share, Cisco is basically number 1 or 2 in every sandbox they play in.
Cisco's best acquisitions over the years have been of the smaller, tuck-in varieties.  They've done some big deals but the company's heart and soul has always been organic growth and niche buyouts along the way.  Chambers is not Larry Ellison, nor does he aspire to be.
The company has $40 billion in cash – an obscene amount of money.
All those stock buybacks at higher prices barely boosted earnings for the investor base – they were simply a way to disguise the gargantuan share issuance to employees and management.  Cisco brass pays itself in wheelbarrow increments as Ultimi Barbarorum so beautifully examined last year.
So if large deals don't make sense, the buybacks are being recognized for what they are and organic growth is going to be tough to come by, what will they do with all that cash?
They will take their $40 billion and begin allocating a small amount of it toward dividends.  A 6 cent dividend to start (1%-ish payout) will not get anyone too excited, but it's better than nothing.  It gives the company room to raise it each year.  What will happen over time is that a new class of institutional investor will move in as the old class moves out.  The growth funds will slowly transfer their shares to the value funds.  All of this occurs at a glacial pace, quarters and years, but it does occur.
Cisco will be a great dividend payer one day.  If they can earn a reputation for cash flow reliability as they once earned their reputation for consistent growth, the shareholders will be OK in the end.  But they will be value shareholders, as the tech stock crowd will have already moved on to the next.
Read Also: