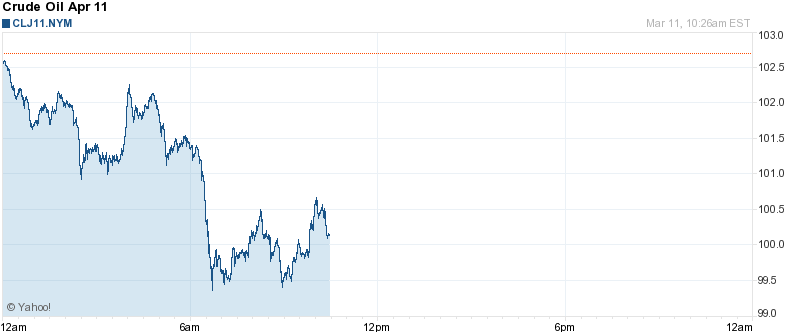 Dave Kansas at WSJ MarketBeat has a good roundup of why oil has slipped back below $100 this morning…
One. The massive earthquake in Japan. This is a serious blow to one of the world's biggest economies, one that is completely dependent on oil imports. Demand is likely to lessen. Matt has some thoughts on how the Japan earthquake might alter the oil storyline.

Two. With global fears heightened by the Japanese quake, the dollar is higher against most major currencies. Commodities are priced in dollars, so all things being equal, if the buck is stronger, it takes less of 'em to buy stuff. The exception: the yen. It is much stronger as investors bet that yen will be repatriated in large numbers to pay for rescue, recovery and reconstruction.

Three. The "Day of Rage" in Saudi Arabia, forecast for today, pretty much fizzled into nothing significant. The world's biggest oil producer, for now, looks likely to keep pumping oil without interruption.
Nicely put.  Since oil racing higher was the proximate cause of the current correction, we shall see whether this fade pulls some bulls back to the game.
Source: