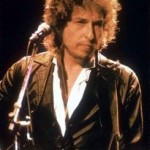 Shaking off their typical distrust toward "hippie music" and "rabble rousers", the Chinese Ministry of Whatever has just granted Bob Dylan permission to play for the first time ever this Spring.  Dylan will attempt to succeed where Google ($GOOG) has failed – skirting the line between staying true to his ideals and his desire to reach the people of the Middle Kingdom.
From Rolling Stone:
Bob Dylan has been approved by China's Ministry of Culture to play his first-ever concerts in the country. According to a notice on the Ministry's website, Dylan will be allowed to perform in Beijing between March 30th and April 12th. Dylan also applied to play a gig in Shanghai, but the Ministry has yet to announce approval for that request.
No word on whether or not Dylan will dare to perform electric :).
The interesting thing here is that the Ministry has to pre-approve the set list.  Wonder which somngs from the Dylan catalog they'd actually object to (and why)…
The approval notice for Dylan's appearance in Beijing will require him to stick with a setlist that has been vetted by Chinese officials. No details have been released regarding what Dylan material was deemed appropriate for Chinese audiences, but it is likely that his more politically oriented songs did not make the cut.
I have most of the modern Dylan records, I don't believe he's actually done anything political in the last decade…and it's not exactly like his earlier career's message was unfriendly to socialism.
Source:
Bob Dylan Approved to Play First Shows in China (Rolling Stone)