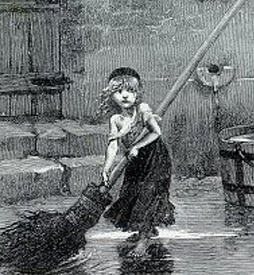 The cost of oil is engendering a new desperation across the country.  This may be a one-off news tidbit or it may be the first of a slew of similar headlines…
From NBC Connecticut:
Whether it's the cost of filling up your gas tank or the cost of heating your home, the skyrocketing oil  prices have us all feeling the pain at the pump these days.

But is it worth risking going to jail to try and get free oil?

A New Haven man is about to find out.  Trenton Williams, 39, is accused of trying to steal 16 gallons of heating oil from someone's home, the Middletown Press reports.

A resident on Mill Street told police that two men went into a home through the back door. When officers arrived, Williams was leaving the basement, carrying two orange 5-gallon buckets filled with oil and there were two more buckets at the bottom of the stairs, police said.
In Victor Hugo's novel Les Miserables, protagonist Jean Valjean is forced to resort to stealing bread in order to feed his sister's seven children.  Is $100 oil going to mean an increase of stories like the one above?  will we be minting our own modern-day Jean Valjeans as the price of heating oil and gasoline climbs high and remains high?
Source: