This is the most important thing you need to see this morning.
Copper has almost always been a leading indicator for stocks even if its powers of prediction for the US economy have fallen in and out of doubt in recent years (I had to explain to the chief commodities strategist for Barclays that "Dr Copper" has moved his practice to China on CNBC a few months back).
Long story short, the most widely-followed copper fund $JJC just sold off through 11-week lows yesterday – and my boy ChessNWine notes that it did so on the HIGHEST VOLUME IN TWO YEARS…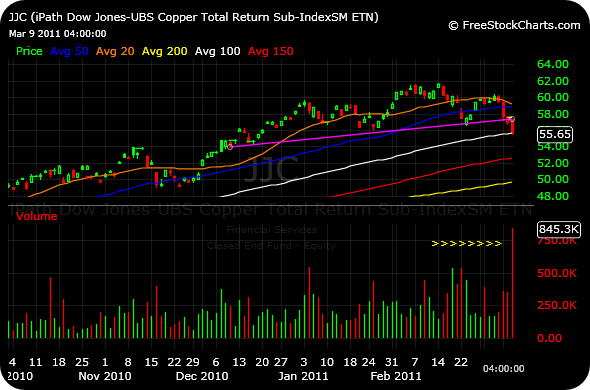 Chess is must-read in this tape.  He's been talking about the weakness beneath the surface of the last few rallies as well.  Don't set your watch by the action in a single copper ETN of course – but don't ignore it either.
Source:
Copper ETN Selling Volume Support Fresh 11-Week Lows (iBankCoin)