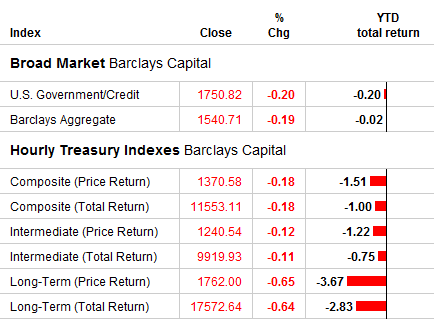 I spent a few hours this week on the phone with several fixed income managers for an SMA research project I'm working on within my practice.  In a nutshell, the mood amongst the bond guys is utter despondency.
Some quick lowlights:
They are cutting management fees to 25 basis points and below to retain assets and hopefully drive some inflows from investment advisers who have themselves thrown their hands up in frustration at this point.
Even among the high quality shops, there is a temptation to dip down in credit quality or even reach a bit on duration just to have something to say to prospective clients.  Dangerous stuff and most won't actually do it even if they are pondering it out loud.  As Warren Buffett quipped in his most recent shareholder letter, "We agree with investment writer Ray DeVoe's observation, 'More money has been lost reaching for yield than at the point of a gun,'"
And now, we are hearing that Bond King Bill Gross (Pimco) may have actually been backing up his words with action – selling Treasurys with both hands for his flagship Total Return fund.  Zero Hedge is breaking this story so take it with how ever many grains of salt you like UPDATED: THIS HAS BEEN CONFIRMED BY SEVERAL MEDIA OUTLETS.  This is the largest mutual fund on the planet so if it turns out to be true, expect even more confusion and hand-wringing from your local fixed income manager.
Brutal out there in Bondtown.