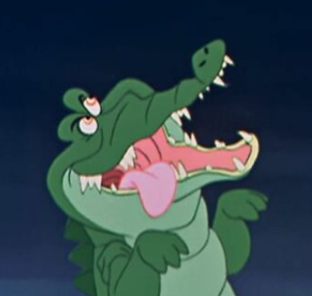 There is a veritable Land of Confusion surrounding what brokers and financial advisors can and can't do in terms of social media.
Consultants and columnists from all the major trade magazines are practically forcing brokers down the social media plank at swordpoint, all the while compliance crocodiles snap away just below, as if daring an ambitious financial professional to go too far.
Enough.
It's time to stop listening to what every single screaming idiot thinks they know about the topic.  I'm going to keep it real for you, this is the definitive State of Social Media and the Brokerage Business circa right now:
Firms are scared to death.
The small firms do not have the staff to keep up with all this and they just know that regulators are going to nail someone to make an example of them.
The large firms don't really permit much of anything – building multi-million dollar debt products with the express purpose of profiting on their collapse is no problem, flattening the globe with levered destruction and infinite foreclosures is also fine but don't you ever, ever, ever, EVER even DARE send out a tweet.
You will not get clients on Twitter.
Do you think millionaires are reading random tweets from people to decide whom to transfer a 7-figure portfolio to?  You do?  Twitter is best used as an information-gathering engine – from corporate investor relations to trader sentiment to breaking news and headlines – hell, even the SEC has a tweet stream you can follow – it works perfectly.  Twitter and more specialized services like StockTwits have become indispensable for staying up to speed on markets and trends, but tweeting as a means of building a financial advisory practice?  Yeah, no.
LinkedIn is the only useful social site for advisors so far.

LinkedIn seems to be the early winner for advisors to promote their practices and advertise their services.  A recent survey of 262 advisors found that LinkedIn is now the second-most used method for prospecting after face-to-face meetings and that advisor usage of the medium has doubled from 2009 to 2010.  In the Wall Street Journal the other day I described one tactic being used by advisors on LinkedIn as the Corporate Stalk – essentially a way to identify ex-employees of a company who may be in need of a 401(k) rollover.  I am not doing much on LinkedIn but I know guys who are getting a lot out of it.  It's working.
Stockbrokers are second-class citizens on social media, just like in every other aspect of life.
How dare anyone with a Series 7 even attempt to be treated with the same rights and liberties as a normal American citizen?  What in tarnation would ever give a stockbroker the idea that they deserve to have a Facebook account that their compliance officer doesn't share a password to?  How dare they?  Freedom of speech and expression?  Ha!  The ability to promote themselves like any other carwash or convenience store can?  Laughable.
The following are my solutions to this nasty little dilemma of financial services pros thinking they deserve to be able to network online like any common 3rd grader:
Upon the first instance of a stockbroker being caught on Facebook or (shudder) Myspace, their license should be immediately suspended and their clients told what horrible people they are.
Upon the second instance of a broker using the web to contact old friends from high school without the supervision of at least a triumvirate of compliance personnel, that broker must be statutorily disqualified from the securities industry for life and have both their hands cut off.
Should any subsequent evidence be uncovered that the stockbroker either visited an online message board or said anything using their real name on a social media site, AC-30 Tomahawk choppers must be dispatched to his or her primary residence with full ballistic payloads and the green light to fire when ready.
If these punishments sound overly harsh, please understand that American adults are completely unable to take care of themselves and make their own decisions – the most dangerous thing on earth is a licensed securities salesman saying anything in public that hasn't been through the standard 5-tiered, 72-hour approval process.
***
Sorry if I inadvertently shattered any of your pipe dreams or willful misconceptions, but that's the way it is.  And if your overpaid PR agent or publicist who's pushing you to "join the conversation" or "dive in" says otherwise, please feel free to have them step up and argue with me – my cellphone charger knows more about social media than they do.
Hope this was helpful.