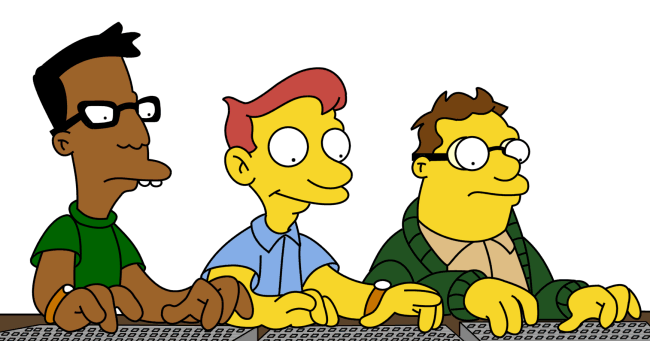 Remember those nerds from high school who were always cloistered away with only each other for company?  Remember how disconnected they were from the social scene and goings on around town?  Well those nerds grew up and became the very economists that everyone is counting on to see things coming.
Trouble is, they're still socially awkward and estranged from much of their neighbors' everyday lives.  And yet you expect these very geeks to be aware enough of the doings around them to make economic forecasts?  Laughable.
Just like the clueless nerds from your adolescence, nerdy economists have no idea what's happening away from their data sets –  that's why they've missed both the crash and the recovery.
Here's what you need to consider to grasp my Poindexter Theory of Economist Failure:
Not every economist is a nerd.  There's probably, like, eleven of them that aren't
Nerds tend to have insular personality types and do not interact as much with friends and extended family members as others do – this means they are out of the loop in terms of who is buying what, having money trouble, achieving success in business etc.
This distance makes nerds lousy contextualizers of the numbers they are working with… data without context is the sun without heat.  For example, one needed to be at the cocktail parties engaged in conversation to truly understand the magnitude of the real estate bubble.  Do you invite many dorks to your parties?
Nerds spend very little time socializing outside of their little bubbles; there are few trips to the mall and even fewer instances of discussion with those they believe to be of only average intelligence.
Your basic nerd types are well represented in the economist world:
Macroeconomists: Rotisserie League Baseball nerds obsessed with the statistics of a game they themselves have never played.  I'm always amazed at the audacity of one who has never done business to predict the business activity of others – on a global scale no less.
Game Theory Economists: Dungeons & Dragons nerds unsuited for anything in the real world other than all-nighters in their mothers' basements – 12-sided dice in one grubby fist, a bag of Bugles clenched in the other.
Public Finance Economists: Nerds who participated in Student Government, planning the very prom at which you and I vomited and had unwanted babies.
International Economists: Model UN nerds, resplendent in the requisite costume of the country they are meant to represent that day in the school auditorium.  I don't really care how many chicks an international economist gets with at Davos, a nerd is a nerd.
Econometricians: Mathlete nerds.  And even they knew not to actually wear the gold medals they were awarded for their mathletic feats in public.  The closest these nerds came to anything even remotely athletic was hopping over a fence before being whipped with a speeding lacrosse ball.
Quants: A/V nerds who awoke each morning with little but the burning desire to handle the projector equipment in their heads and hearts – completely oblivious to the derision surrounding whatever godawful sex ed film they were helping to expose their already-experienced classmates to.
Unfortunately, the most maladroit among us have been entrusted by society to gauge the current economic conditions and then to extrapolate them forward into a forecast on which we can depend.  But these nerds never knew where the parties were, who was invited or who had the best stuff upstairs in the master bathroom.  How then can we possibly expect them to have a feel for what's going down now?
Which is why you should prefer to get your outlook from the guy who stole your girlfriend, or the guy who made the team instead of you or that girl who pretended she didn't know you at the 8th grade dance.  They may not be good people, but they sure seemed a step ahead and on the ball compared to these nerds you're listening to now.
And that's one to grow on.