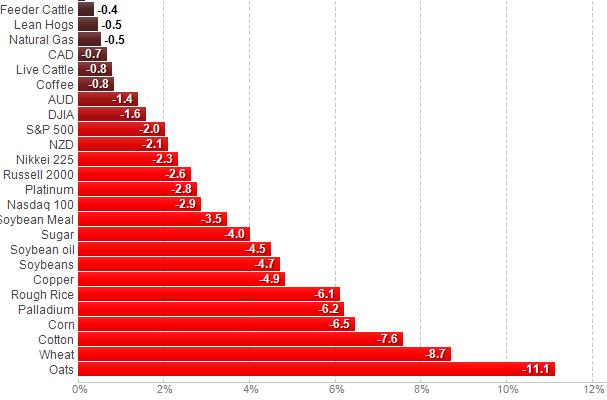 Last week I mentioned that my fave long-term trade had gotten a bit too crowded for my tastes.  There was one of those gigantic ag commodity introduction stories at TheStreet.com that was the bushel that broke the combine's back for me.
Yesterday, the levitation act that ag futures had been putting on for months came to an abrupt end, at least for the short term…
From Agriculture.com:
The March corn futures settled 'limit down' 30 cents at $6.79 3/4. The March soybean contract closed 'limit down' 70 cents at $12.98.  The March wheat futures closed 'limit down' 60 cents at $7.62 3/4. The March soymeal futures closed $16.40 per short ton lower at $345.60. The March soyoil futures ended $2.50 lower at $53.99.
One of the most important decisions you need to make as an investor is what your time frame is.  In the ag story, mine is a decade.  I plan to be around and the demographic outlook seems utterly undeniable to me.  Billions joining the middle class and expecting to eat more veggies and animal proteins.
But!  No matter how far out at the horizon you're looking, it pays to glance directly down from the windowsill every once in a while as well.  Lightening up on some of my ag-related stuff in light of how universally loved it had become wasn't the easy thing to do (on Friday it looked downright stupid), but a few days later it looks to have been a smart move as I now have the leeway to add back at lower prices.
Last week over a couple of beers, me and Joe Weisenthal were talking about mean reversion for weather and the fact that he felt ag commodities were way overbought.  His time frame was short-term.  I conceded that a cool-off was necessary but that longer-term, well, who cares?  Joe's call was on the money so far based on this week's early action.  My call will be on the money, too.  We can both be right because we have different time frames.
Trading is time frame, time frame is trading.
Source:
Farm Markets Close 'Limit Down' (Agriculture.com)
Read Also: