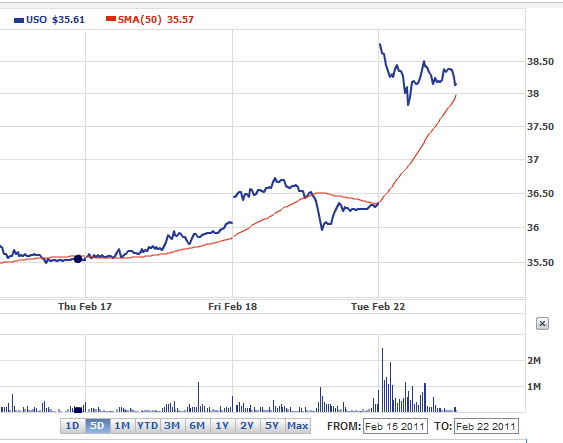 Before you go freaking out over oil in light of the Libyan s***storm, I highly recommend you consider what the strategists at Nile Capital Management have to say.  Nile is very focused on the North African region and they say that an oil panic based on Libya's output is misplaced.
From Money Watch Africa:
Although news from Libya appears to have rattled markets globally, it is important to keep the true impact of the protests in context. Although Libya is a net exporter of crude, it is only the 17th largest source of oil globally, with no direct exports to the United States. Thus the concern from investors that Libya could cease to contribute to oil production seems overblown. Not only does Libya represent a relatively minor percentage of production, but OPEC and other oil producing states could absorb the deficit by increasing their own production. This also assumes a full stop of Libyan exports, which is unlikely. Finally, should all Libyan exports cease and excess capacity not be absorbed, it is should be noted that the International Energy Agency has over 1.6BN barrels (the equivalent of about six months of U.S. imports) of reserves which can be tapped should global production contract.
Now if the speculation is that other, more important oil exporters are next in line, that is a very different matter.  I'm looking at you, House of Saud.
Source:
The Impact of Libyan Protests on Global Markets (Money Watch Africa)