The other night I did an experimental post that I think I'll do again this week. The question I asked you Thursday concerned what, if anything, could spark a meaningful correction for this market. As we learned on Friday, for a fact, this market will never, ever pull back no matter what – so the poll was largely an academic exercise.
Basically, I embedded some code from a company called Democrasoft that allowed me to host a poll in which you guys were able to not only vote on choices but to make up the choices as well.
Anyway, we've created the below graphic with the results of your ideas and votes…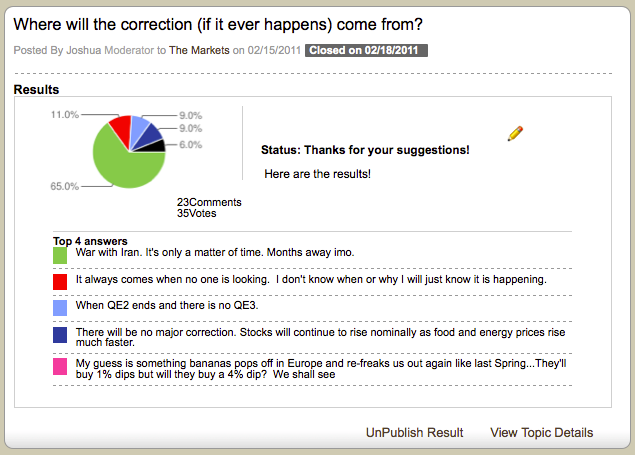 The fact that you guys picked "war with Iran" as the prelude to a pullback is interesting as this weeekend's buzz seems to be all about the two Iranian warships creeping through the Suez.
Personally, I think this Ahmadinejad guy's a crackpot lunatic but nowhere near as crazy and stupid as he sounds.  The religious leadership behind the scenes in Iran will only let their bearded puppet push so far before pulling in his reins.  War with the US is not really on their menu.
If you're interested in learning more about how this software works or embedding your own poll, visit www.democrasoft.com.