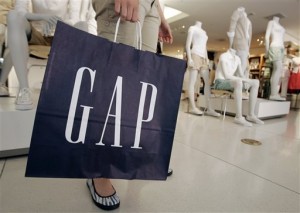 Luckily there is no more Blockbuster Video, otherwise all those drones would be faced with a major cost crisis when picking out those blue shirt/khaki pants combos.  Your Rabbi knows never to pay retail, but do they listen?  I hope they will!
From Bloomberg:
Cotton topped $2 a pound in New York for the first time ever as accelerating global growth boosted demand for garments manufactured in China, the world's biggest consumer and importer, amid shrinking global supplies.

China's apparel exports in January surged 34 percent from a year earlier to $13.38 billion, the Customs Bureau said this week. Stockpiles monitored by ICE Futures U.S. have plunged 84 percent since June 1. Flooding in Australia and Pakistan and drought in Russia and other parts of Europe have reduced output.

Textile mills are buying more fiber as the global economy recovered from the worst recession since World War II. Costs may rise for U.S. retailers including Gap Inc., J.C. Penney Co. because cotton has more than doubled in the past 12 months. Olah Inc., a U.S. apparel manufacturer that supplies Gap, said it raised prices for "several products."
You know that phrase "It's all good"?  Well, so it's actually "All bad" for apparel makers.  They're gonna be squealing in the Garment Center, I can hear it now!
Will that pain be passed on to consumers?  Too early to tell and the Ministry of Misleading Statistics will find a way to pull clothing out of CPI calculations anyway so whatever.  Back to Angry Birds.
Source:
Cotton Tops $2 for First Time in New York as Bulls Go 'Berserk' (Bloomberg)